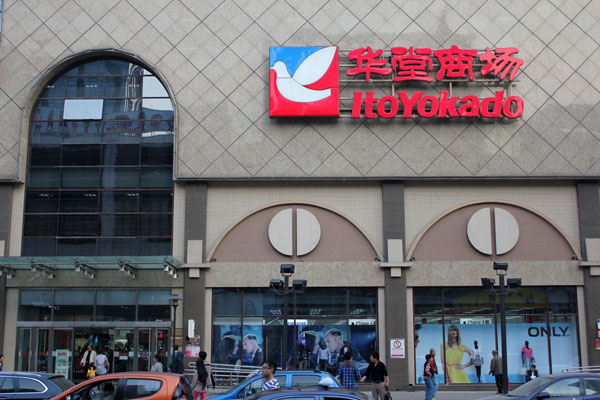 An Ito Yokado store in the Wangjing area in Beijing will be closed on April 25 due to location planning and fierce competition from thriving e-commerce. Wang Zhuangfei / For China Daily
Bricks-and-mortar retailers under growing pressure from e-commerce
Japanese retailer Ito Yokado Co Ltd is to close its Wangjing store in Beijing on April 25, with employees and goods withdrawn on May 15. Industry experts said fewer customers and a less-than-satisfactory performance are to blame for the end of eight years' operation.
The closure of the store in a high-end community of northeastern Beijing is the beginning of a strategy reshuffle for Ito Yokado, which has eight stores in the capital and five in Chengdu.
Traditional hypermarkets and department stores have been hit by the rise of e-commerce, represented by companies such as
online retailer
Tmall
, a platform of
Alibaba Group
Holding Ltd. In response, Beijing Wangfujing Department Store (Group) Co Ltd and New World Department Store China Ltd have entered the e-commerce market.
"Although the price of their fresh food and daily necessities are higher than those at other supermarkets, their quality can be trusted, and the shopping experience is pleasant," said Li Weili, a 60-year-old frequent visitor to the food market at the Ito Yokado in Beiyuan, beyond the North Fifth Ring of Beijing.
Trips in search of electronic goods and clothes were rare to the store's upper floors, she said, because such items can be found at more competitive prices on the Internet. But she worried that more Ito Yokado stores may close.
The move came after the end of a collaboration with Beijing Wangfujing Department Store, a leading domestic retail group based in the capital city. The joint venture was founded in 2004.
The closure of the Wangjing store is a prelude to structural adjustments, said Wang Kun in the communication department of Ito Yokado Beijing.