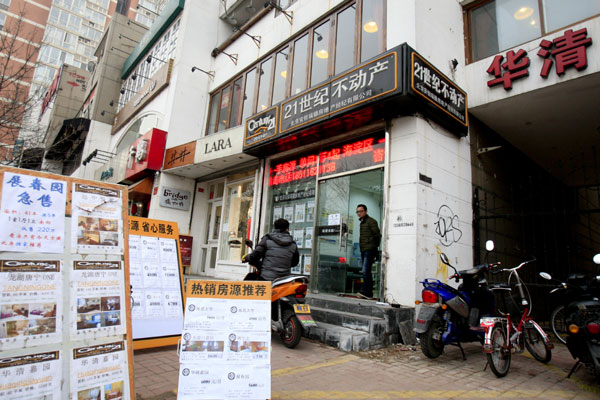 Residential property is listed for sale at a Century 21 real estate brokerage in Wudaokou, Beijing. Provided to China Daily
Purchases of pre-owned homes in Beijing reached a six-year low in March, Centaline Property Agency said on Monday.
And sales aren't likely to improve this month, said Zhang Dawei, Centaline's chief analyst, as a wave of new homes are ready to hit the market.
A total of 8,943 units were sold in March, according to Centaline. That accounts for just one-fifth of the 43,780 units sold the previous March. Prices went down, too, dropping 0.6 percent from February to 31,400 yuan ($5,055) per square meter in March.
The slump in used home sales reinforces recent market data showing that China's property prices are losing steam after years of cutthroat growth.
E-house China Holdings Ltd said that property inventories in China's 20 biggest cities grew 16.3 percent year-on-year and 2 percent month-on-month in March to a combined 84 million square meters, a five-year high. Beijing, in particular, saw a 10 percent month-on-month increase in inventory, the most among the 20 cities.
As one of the pillar industries in China, accounting for as much as 10 percent of the economy, a cool-down in the property market could have a significant impact on China's economy, which has seen its biggest slowdown in years.
Official data show that in the first two months of the year, industrial production growth moderated to 8.6 percent year-on-year, the lowest since the global financial crisis. Electricity production, the most telling of economic indicators in China, saw only a 5.5 percent growth in January and February, compared with 8.3 percent in December 2013.
Over the weekend, Premier Li Keqiang again voiced concerns about China's economic growth, promising more tax rebates to small companies, speedier shantytown renovation and more railway investment.
Local media reported last week that cities such as Hangzhou and Wenzhou already have started to discuss scrapping the purchasing restrictions on second homes put in place by Beijing to check then-skyrocketing home prices.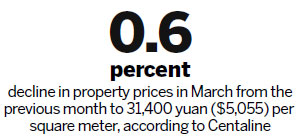 Australia and New Zealand Banking Group Ltd (ANZ) said in a report on Monday that it expects China's economy to grow 7.2 percent year-on-year in the first quarter, 0.3 percentage point lower than Beijing's full-year target of 7.5 percent. On a quarterly basis, growth will be 1.3 percent, down from the 1.8 percent of the fourth quarter last year.
But growth momentum should return later this year, analysts said.
"Looking forward, we believe that the acceleration of policy implementation, plus an upward cyclical pattern of China's investment activities, suggests that the growth momentum is about to pick up," said ANZ.
"The strength of the cyclical upturn, however, will hinge on whether the PBOC (People's Bank of China) can permanently lower the funding costs facing the enterprises."