McKinsey: Industry in China set to be world's second-largest by 2020
China is expected to be the world's second-largest life insurance market by 2020, having a total gross premiums of $406 billion, according to statistics released by McKinsey & Company on Tuesday.
The scale of the life insurance market in China, which will take the No 2 spot from Japan, will be doubled and it will see an annual growth of 10 percent in the coming five to 10 years.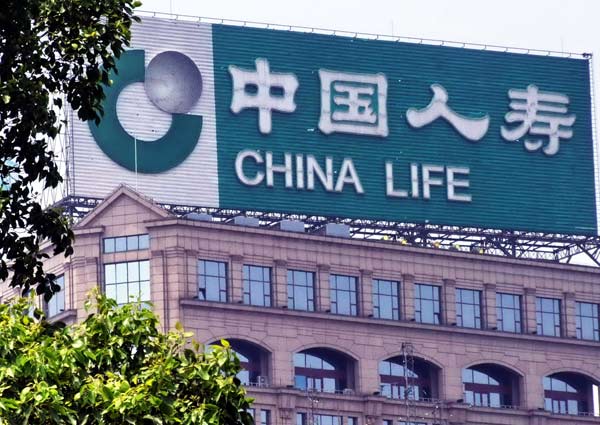 A billboard of China Life is seen in this file taken in Shanghai in 2008. [Shao Chang/Asianewsphoto]
A new edition of the book Life Insurance in Asia, written by two senior McKinsey partners, pointed out that as a newly booming market with potential profits for life insurance users, market capitalization in it's life insurance market is growing by about 15 percent every year, which is still a long way behind developed economies.
"China's rising middle class, of which there are expected to be 500 million by 2025, has been gradually shifting financial assets from low-paying deposits into higher-yielding investments, creating new opportunities for the insurance sector," said Stephan Binder, a senior partner and head of McKinsey's insurance practice in the Asia-Pacific region, and one of the authors of the book.
Binder added that demand for insurance in China will contribute an estimated 25 percent to insurance growth globally over the next five years.
Middle-class families are expected to be the major group of life insurance customers in China.
"By 2015, the middle-class group in both first-tier and second or third-tier cities will represent 30 percent of the urban population, contributing more than 30 percent to the growth of the life insurance market," said Binder.
For middle-class parents, buying life insurance has become an essential step especially when a new family member is born.
"My parents bought life insurance for me when I was 18 years old, and I got my daughter education insurance, investment insurance and life insurance when she was two months old," said Hu Cong, the 28-year-old mother of a 2-year-old girl from Wenzhou, Zhejiang province.
According to the book, bancassurance has grown the fastest in the past decade by challenging the traditional tied agency model in China.
"It's hard for insurance agents to provide long-term attractive life insurance products with investment profits for local customers, who had been persuaded by their financial managers to buy insurance products through banks," said Parker Shi, a senior leader of McKinsey's insurance practice.
Shi added that cooperation between the insurance companies and banks is encouraged.
At the moment, insurance companies are competing with banks as suppliers of insurance products for limited profits.
"It turned out to be very difficult to find new clients to buy life insurance in the past two to three years while banks launched certain insurance-related products with profitable returns," said Wang Huanhuan, a sales manager of a local insurance company in Shanghai.
Wang added that the company will probably work with a number of banks to launch several life insurance products in the near future.
In addition, in China's highly competitive insurance market, foreign companies are finding it hard to attract customers.
The book showed that the market share of foreign insurance companies in China has continued to decline over the past five years to the current level of 5 percent.
"To succeed in China, foreign insurance firms need to follow a clear and consistent strategy that avoids the tendency to sacrifice long-term health for short-term performance," said Binder.
He added that foreign companies arriving in China should get to know local customers better by offering appropriate personalized products and adopting a long-term strategy.
yuran@chinadaily.com.cn