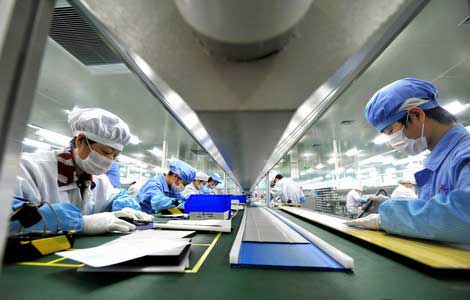 Workers assemble solar cells in one of LDK Solar's plants in Xinyu, Jiangxi province. [File Photo/Xinhua] 
NANCHANG -- A bailout plan created by the government of the city of Xinyu for LDK Solar, one of the world's largest solar wafer manufacturers, has sparked controversy in China regarding its credibility.
The Xinyu Municipal People's Congress, the city's legislative body, passed a resolution on July 12 that included the repayment of 500 million yuan ($79 million) in loans extended to LDK Solar by the Huarong International Trust and Investment Corp in the city government's annual fiscal budget.
The use of public funds to repay the debts of a private company, a rarity in China, has aroused heated debate.
"The fiscal budget is for public service, not for the development of a company," Shi Zhengwen, director of the taxation and financing research center of the China University of Political Science and Law, was quoted as saying by China Business News.
"LDK Solar is just a leading company in a competitive industry, and it has no bearing on major public interests and economic security," Shi said. "The government cannot repay a company's debt just because it pays more taxes and employs more people," he said.
LDK Solar, established in 2005, was the first company in East China's Jiangxi province to be listed on the New York Stock Exchange. It employs more than 20,000 people and paid 1.3 billion yuan ($203.97 million) in taxes in 2011, almost 12 percent of the city's total fiscal revenues.
LDK Solar is ranked 266th on Forbes' list of the top 500 Chinese companies for 2012. The provincial government has stated its desire to turn the photovoltaic industry into pillar industry, with LDK Solar expected to have annual sales of 100 billion yuan in 2015.
The drastic expansion has made LDK Solar a shining star in China's new energy industry. But shrinking demand for solar products and dropping prices for panels that convert sunlight into electricity have forced several companies in China, Europe and the US to shut down their operations.
LDK Solar had sales revenues of 13.93 billion yuan and suffered a net loss of 5.49 billion yuan in 2011, according to its yearly report. Its total debt amounted to 30.23 billion yuan by the end of 2011.
The company saw it sales drop by $185 million in the first quarter and posted a gross margin of negative 65.5 percent due to serious price erosion.