While the US Commerce Department's preliminary decision to impose duties on solar panels from China turns out to be less than anticipated, JA Solar, one of the leading manufacturers in China, sounds cautiously relieved.
"We will wait and see what happens next. But the company has been actively setting up operations in North America," Fang Peng, CEO of JA Solar, told China Daily.
The US Commerce Department announced on Tuesday that Suntech, the world's largest solar panel maker, will pay a 2.9 percent tariff and Trina Solar will pay 4.73 percent. All other Chinese manufacturers and exporters, including JA Solar, will pay 3.61 percent.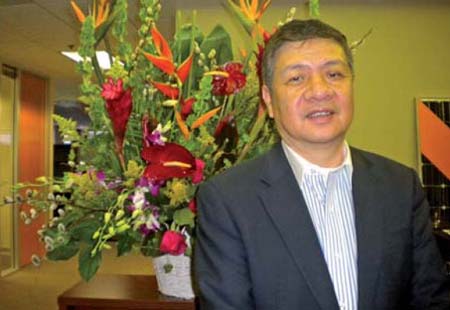 Fang Peng, CEO of JA Solar, says the company has been actively setting up operations in North America. [Provided to China Daily]
According to Zhang Xiaofeng, the company's marketing director, the tariff had been expected to be as high as 20 percent to 30 percent.
Late last year, the Commerce Department announced it was conducting an anti-dumping and anti-subsidy investigation into Chinese solar panel makers and exporters. It was responding to a petition by US manufacturers, led by the US arm of SolarWorld AG, one of Germany's largest makers of solar products.
In 2007, JA Solar, headquartered in Shanghai, started its US operation in Silicon Valley with its focus on research and development, marketing and sales.
Before the ruling was released, the company said that it was withholding $500 million of investment in the US. The money was intended for downstream markets, namely market players, including utilities, developers, investors/bankers, engineering procurement construction companies and solar energy product providers.
But now the company seems to be more positive about its development in North America.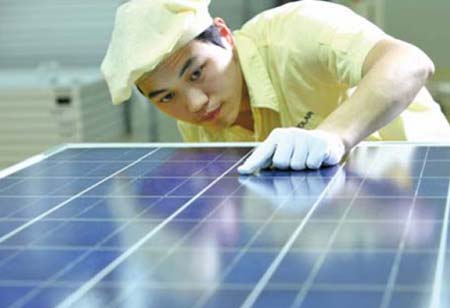 A worker inspects the quality of panels at a JS Solar plant. [Provided to China Daily]
"Chinese solar manufacturers contribute positively to the growth of the US solar industry," Fang said. According to Fang, who became CEO in 2010, JA Solar purchased hundreds of millions of dollars of solar-related products, including raw materials and production equipment, from US suppliers. In 2010, JA Solar's purchases from US suppliers exceeded its exports to the US market by more than $300 million.
James T. Caldwell, president and CEO of E3 Regenesis Solutions Inc, praised JA Solar's achievements in the solar industry.
"I am excited by the work of JA Solar and other Chinese solar companies in making inexpensive and efficient solar cells available for US solar developers, integrators installers and operators," he said. "They lower the initial cost for US renewable energy adopters who seek to lower energy bills and lower emissions while creating US jobs. I think this also opens up new opportunities for the US and Chinese companies to collaborate to develop green energy solutions on multiple levels within a framework of cooperation."
Chairman Robert Wu of the US-China Green Energy Council (UCGEC), a nonprofit organization aiming to promote green energy between the US and China, told China Daily that the two countries should work together on solar energy in order to be in a "win-win" position.
"The interests of the US and China are tied closely together in the three sections of solar business: upstream (China buying equipment and materials from the US); midstream (China selling solar panels to the US); and downstream (US retail market). It's actually a mutually beneficial relationship if you look at the nature. Only helping each other will make it work for both, not the other way around," Wu said.
April Zhong, CEO of Silray, one of the California-based solar power solutions companies, is optimistic about the outlook of the US solar product market despite the current shadow related to a possible additional tariff, which will be decided in May.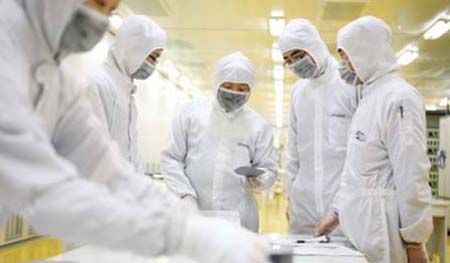 Researchers exchange views on products at a JS Solar plant. [Provided to China Daily]
"Everyone in the solar energy business should aim to contribute to cheaper price for end users; many Chinese manufacturers have contributed to the low cost of solar energy in the US," she said. "By the time solar energy's retail price is close to or the same as our (electric) bills, we have achieved our goal for solar energy," she said. She predicts that will happen in the next 10 years, or even sooner, based on today's emerging solar market.
An oversupplied market coupled with the financial crisis in the US and Europe made it difficult for the solar cell industry in the past few years. Yet JA Solar and some other Chinese manufacturers have managed to survive.
In 2010, two years after the financial crisis hit, JA Solar shipped 1.46 gigawatts of cells and modules, an increase of 187 percent from the 509 megawatts shipped in 2009. Its revenue totaled $1.78 billion, an increase of 211 percent from $572.5 million in 2009. According to reports published by SolarBuzz and IMS Research in December 2010, JA Solar ranked first globally in terms of solar cells produced and shipped in the third quarter of 2010.
The company shipped 445 mW of cells and modules in the third quarter of last year and 1.68 gW to 1.70 gW for the whole year.
Fang attributed the company's success to its advanced technology on high conversion efficiency, low breakage rate, stringent quality control and strong global strategy.
The conversion efficiency of its conventional mono-crystalline cells rate at 18.6 percent while that of the multi-crystalline cells rate at 17 percent.
According to Fang, JA Solar pays great attention to research and development, which has recently resulted in the development and production of new, technologically advanced Maple multi-crystalline and Secium mono-crystalline solar cells with conversion efficiencies of more than 18.5 percent and 19.1 percent in large volume production.
"We utilize the most advanced solar cell manufacturing equipment for our manufacturing facilities, which ensure the quality and efficiency of our products," Fang said.
The company has a multi-crystalline silicon wafer facility in Donghai, Jiangsu province, with an annual capacity of 600 mW. In November, JA Solar acquired the Yaojiao, Hebei province-based mono-crystalline silicon wafer manufacturer Solar Silicon Valley, which has an annual capacity of 500 mW.
JA Solar has two main solar cell manufacturing facilities, one located in Ningjin, Hebei province, and the other in Yangzhou, Jiangsu province, with a combined capacity of 3.0 gW as of the end of 2011. The company also has a PV module production facility in Fengxian, Shanghai, with an annual capacity of 1.2 gW as of the end of 2011.
"Our excellent equipment utilization achieves the maximum utilization of equipment through delicacy management, guarantees the prompt supply of products, while also lowers the company's integrated cost. Our stable supply of raw materials also puts a guarantee stamp on us being a world-leading manufacturer of high-performance solar power products," Fang said.
The company works with leading third-party testing and certification partners such as Intertek and TuV SuD to ensure that projects comply with international standards for safety and efficiency. Under the strategic alliance with TuV SuD, the two will soon cooperate on drafting standards for the construction and assessment of solar power projects.
kellyzhang@chinadailyusa.com