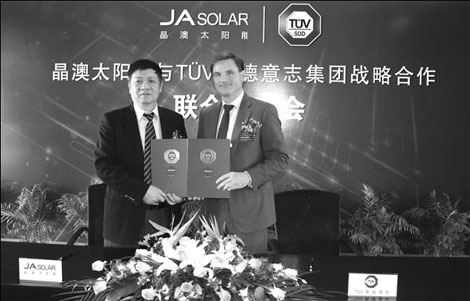 JA Holdings Co Ltd CEO Fang Peng (left) and TUV SUD's CEO in China Dirk von Wahl at a Dec 12 ceremony to mark the agreement between JA Solar and Munich-based technical service provider TUV SUD. [Photos Provided to China Daily]
The European Union has been the largest photovoltaic (PV) market in the world.
Strong governmental support along with the widespread green awareness have been driving the sound domestic growth of PV renewable energy as well as attracting interests of the solar product manufacturers from all over the world.
Accordingly, JA Solar Holdings Co Ltd, a leading manufacturer of solar power products has been keeping an eye on Germany where the technology enjoys preferential treatment.
The Shanghai-based company has established partnerships with German companies and organizations in the past year. It signed an agreement for technology testing and certification with the Munich-based technical service provider, TV SD Group, on Dec 12.
In the past, Chinese photovoltaic products were required by EU regulations to send its products to a third-party testing organization to obtain certification before the products could be sold in Europe.
These procedures were often both costly and time-consuming. JA Solar is the first Chinese PV producer to set up a TV SD certified TMP (Testing at Manufacturers' Premises) laboratory to enable faster and more cost-effective product certifications.
In addition, the company also entered into an agreement with the Bund Deutscher Radfahrer (BDR), or the Germany Cycling Union, as a corporate sponsor for the next three years. JA Solar is the first Chinese PV company to translate its support of low carbon movement into action.
This also marks the first time for the BDR to establish a long-term sponsorship with a Chinese enterprise.
JA Solar's CEO, Fang Peng, said the company invested in cycling sports for significant reasons. "Cycling is a sport of zero carbon emissions, which is in line with a concept supported by JA," he said. "Cycling emphasizes endurance and skills. JA remains competitive with continuous product innovations to maintain a leading position in the sector."
Recently, JA Solar also became the exclusive PV module supplier for Solarhybrid AG's Allstedt I project.
Under the agreement, the company is expected to provide 19 megawatts of PV modules for one of Solarhybrid's solar power plants in the city of Halle in eastern Germany.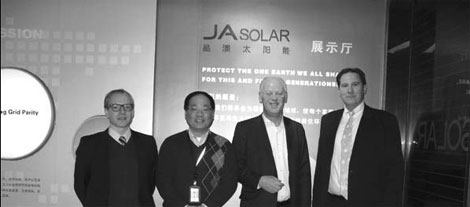 Senior executives and technology experts of JA Solar.