China's Huawei signs ICT training pact with University of Zimbabwe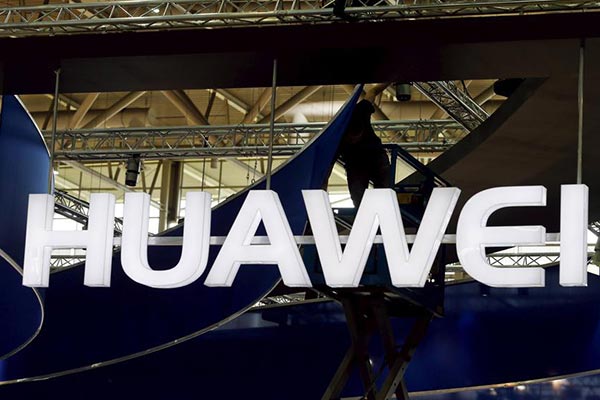 A worker adjusts the logo at the stand of Huawei at the CeBIT trade fair in Hanover, March 15, 2015.[Photo/Agencies]
HARARE - Chinese telecoms firm Huawei Technologies on Tuesday signed a Memorandum of Understanding with the University of Zimbabwe (UZ) for the establishment of an information and communications technology (ICT) training and practicing center at the country's oldest institution of higher learning.
The university's vice chancellor Levi Nyagura and Huawei Technologies Zimbabwe (Pvt) Ltd managing director Yang Jiangtao, signed the agreement on behalf of their institutions.
Nyagura said the UZ-Huawei telecommunications project would help students acquire cutting-edge ICT and telecommunications knowledge and enhance their practical capabilities.
The project will also be a vehicle for the transfer of technology from China to Zimbabwe and would help to strengthen Zimbabwe's technological base, Nyagura said.
"This ICT training and practice center will be used to cultivate ICT talents and help ICT students to improve hands-on practical skills," Nyagura said.
"We particularly hope that the center will evolve into a regional center of excellence in ICT which will not only serve Zimbabwe, but the member nations of SADC, as students from the region will also join in the training programs," he added.
Nyagura said the university would in 2017 launch a degree program in Electronics and Telecommunications Technology which it will run in partnership with Huawei.
"I earnestly hope and desire that this partnership forged by Huawei and UZ will benefit students by providing them with lifelong knowledge in ICT that will match industry requirements and transform them into world class graduates and professionals," he said.
Huawei Technologies Zimbabwe managing director Yang Jiangtao said the partnership, the first of its kind, is aimed at enhancing ICT skills development and help economic development in Zimbabwe.
"Human resource is the most valuable thing here and by developing ICT talent we will make great contribution to the Zimbabwean society," Yang said.