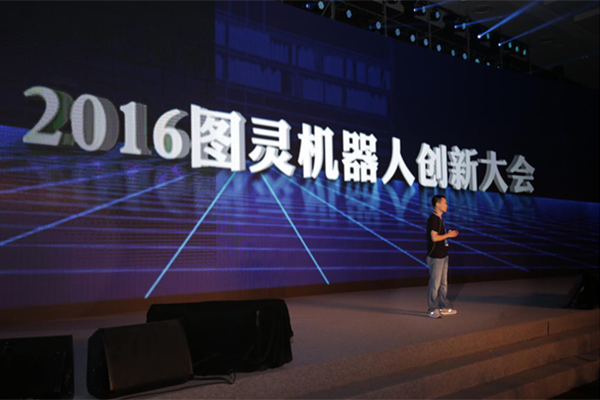 Yu Zhichen, founder and CEO of Turing Robot, speaks at the Robot Innovation Conference in Beijing on July 28, 2016. [Photo provided to chinadaily.com.cn]
Beijing-based Turing Robot, a startup less than two years old, launched dozens of robotic applications during the company's first robot innovation conference on Thursday in Beijing.
"As a technology-oriented company, we attach great importance to product innovation, which is quite scarce in the artificial intelligence sector," said Yu Zhichen, founder and CEO of Turing Robot.
"So we decided to organize the Robot Innovation Conference annually in July from this year," Yu added.
The newly released robotic applications covered education, entertainment, social networking, tools and remote categories.
In order to support innovative robotic applications, the Turing team upgraded Turing OS from version 1.0 to 1.5, improving functions in visual ability, motion control and hardware modules, said Yu.
The Turing Robot development platform, which was unveiled to the public in November last year, has attracted over 230,000 developers up to now, increasing 110 percent in eight months.
Yu stressed the openness strategy of Turing robot platform. Besides the current semantic engine, knowledge system, chat system and practical functions, the team plans to expand openness to other artificial intelligent services, such as affective computing and visual ability.
As one of the most innovative domestic startups in artificial intelligence sector, it was established and launched its first generation product on November 6, 2014.
The Ministry of Industry and Information Technology, the National Development and Reform Commission and the Ministry of Finance jointly released a five-year development plan of robotic industry in April.
According to the plan, China will focus on developing 10 signature products in the robotic industry which have high added-value and a promising market demand. The sales figures of robots in the service industry are expected to reach 30 billion yuan by 2020.