Even though Rio 2016 is "Made in Brazil", the Olympic Games is going to definitely see a lot of "Made in China". From Olympics mascot, security check equipment and air-conditioning installations to sports equipment, Chinese brands are the main engine.
As the world's attention shifts to Rio, Chinese brands are riding the Olympics wave through big-ticket sponsorship and marketing deals. Different Olympics-related products are making appearances aiming to cash-in on the big game.
Here are some of the Chinese brands to look out for during the summer Olympics.
361 Degrees International Limited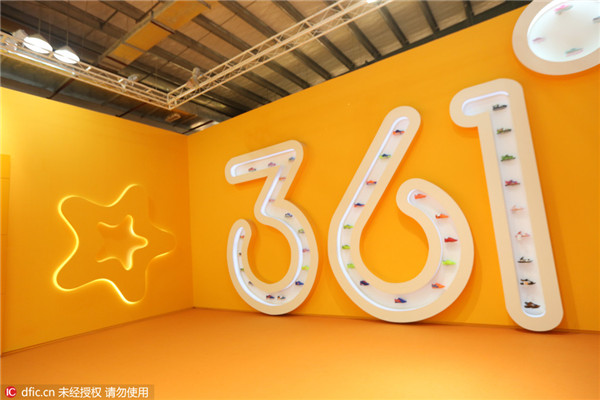 361 Degrees showcases its footwear products in its exhibition room in Jinjiang, Fujian on Nov 25, 2015. [Photo/IC]
Domestic sports brand 361 Degrees has bagged an exclusive deal to supply official clothing to all the Rio 2016 volunteers, technicians and people who participate in the Olympics torch relay.
This deal has made 361 Degrees the first Chinese sports brand to sponsor summer Olympics as well as Paralympics Games.
The firm's designer apparel comes in four colors: green, yellow, blue and red, representing the colors of the Rio 2016 logo.
At the Rio Olympic and Paralympics Games, 361 Degrees will receive rights to initiate marketing and promotional activities with other sponsors.
In addition, 361 Degrees will sponsor the Chinese national swimming and cycling teams, including athletes such as Sun Yang, Ning Zetao, Ye Shi Wen. Besides, delegates from Greece and South Africa, and the Chinese Paralympics contingent will be wearing its products.