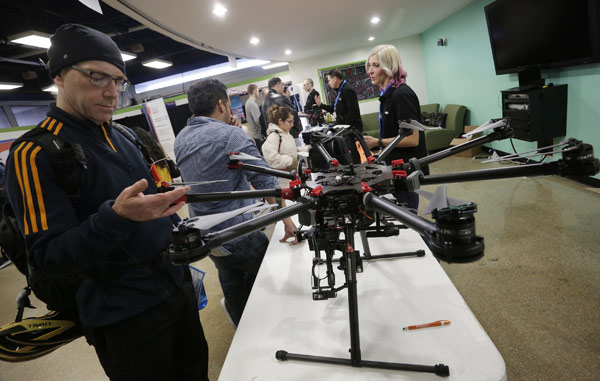 A visitor examines a drone on display at an industry expo in Vancouver, Canada. [Photo/Xinhua]
Alphabet Inc, the parent company of Google Inc, is joining tests for drone deliveries, US officials announced on Tuesday, as the White House unveiled accelerated rule-making for commercial unmanned aircraft operations.
The announcement at a White House event said the US tech giant will participate in safety research through Project Wing, which is part of the "moonshot" unit called X created last year when Google was reorganized under Alphabet.
Project Wing will work at one of the six research centers set up by the Federal Aviation Administration for drone tests and its data "will be shared with government partners to help regulators answer critical safety and human factor questions for (drone) cargo delivery operations", a White House statement said.
At the White House Drone Day event, officials announced steps toward expanding rules for drone operations, including for newsgathering and commercial flights over populated areas, after a first set of regulations unveiled in June.
"We hope to propose a rule on unmanned aircraft operations over people by the end of this year," FAA administrator Michael Huerta said.
The White House statement said the FAA "is working on the next regulatory steps for safely integrating (drones) in the airspace" for "beneficial uses of drones near crowds, such as aerial photography or videography for newsgathering; for certain types of infrastructure inspection; and other applications".