Months ahead of Sony Corp's the new virtual reality (VR) gaming head-mounted display – PlayStation VR, or PSVR - ships to consumers' doors, we at China Daily participated in a media preview held Friday in Beijing.
The video presented above demonstrates the headset part and the Motion-Tracking Move controllers of the gear's specs.
Cai Leilei, marketing and public relations manager of the marketing division of Sony Computer Entertainment Shanghai Ltd, said the 2016 PlayStation China press conference will be held in Shanghai on July 27th.
"We won't disclose any details of the event, but I promise there will be a surprise," said Cai, who refused to confirm whether the price and launch date of PSVR in China would be unveiled at that time.
Having a 5.7-inch OLED panel with an RGB sub-pixel matrix resolution of 1080p and a six-axis motion sensing system, the PSVR is designed to function with Sony's home video game console PlayStation4 (PS4).
PlayStation VR is scheduled to launch in October in Japan, North America, Europe and Asia at a suggested retail price of $399 according to Sony Corp's official website.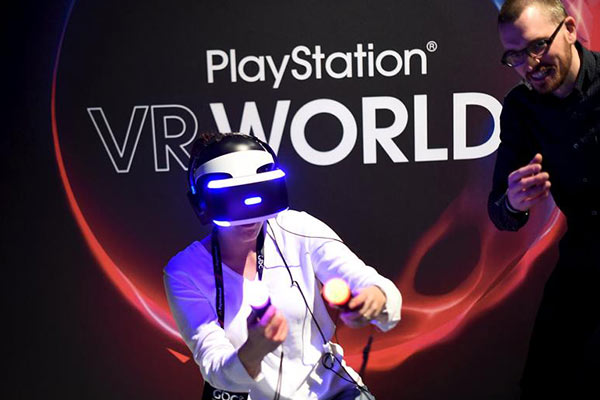 A woman demos Sony's PlayStation VR during an event in San Francisco, California March 15, 2016. [Photo/Agencies]
Compared to the Oculus Rift headset at $599 and the HTC Vive at $799, PSVR has the advantage in price.
According to consulting company International Data Corp, there are three major device categories across the augmented and virtual reality markets. These are screenless viewers that use the screens of specific smartphones to drive an AR/VR experience; tethered Head-Mounted Displays (HMDs) that utilize an existing compute device such as a PC, game console, or even a smartphone to drive a head-worn display, and standalone HMDs that integrate processing within the head-worn display itself.
According to the latest research released by China Electronics Standardization Institute and Xinhua News Agency, an expanding community of companies, both large and small, are working flat-out to make VR part of people's daily lives.
It said the Chinese VR market was worth 1.54 billion yuan ($236 million) in 2015, and is expected to rise to more than 5 billion yuan this year.
Alfred Zhou, general manager of GfK China, a market research and consultancy services provider, estimated that 1.5 million sets of VR hardware will be sold in China in 2016.
Zhu Lingqing contributed to this story.