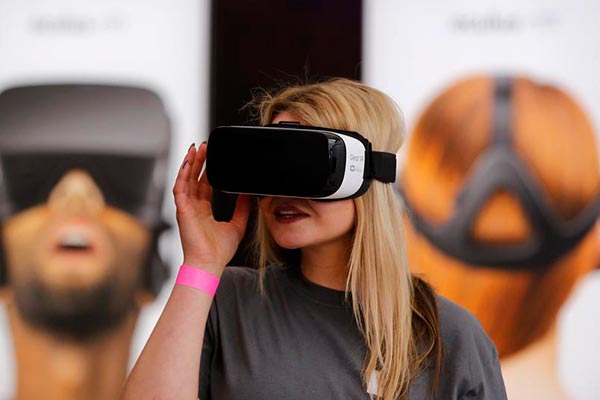 A Facebook staff uses a Gear VR virtual reality headset by Oculus and Samsung Electronics at the new Facebook Innovation Hub during a preview media tour in Berlin, Germany, February 24, 2016.[Photo/Agencies]
BEIJING - It may have been around for decades, but virtual reality (VR) has been anything but real for most people. That all may be about to change, as a latest batch of VR gadgets and apps make their way to market.
VR simulates a 3D environment that resembles the real world, usually through a headset or VR glasses. In the minds of the general public, VR is still most closely associated with gaming.
Guo Jirao, 17, had her first VR experience at an expo in Beijing in January, and she loved it. Using a headset, she was totally immersed in the environment, in this case a space lab, where she successfully "repaired" a "broken robot".
"I had heard about VR from the Internet and teachers, but had never tried it myself. It is really cool and I hope 'virtual' reality turns into everyday reality as soon as possible," said Guo.
VR is already popular in China among young people like Guo who are not necessarily tech enthusiasts, but until more practical uses for virtual reality emerge beyond the realm of gaming, the technology will remain something of a sideshow.
The good news is that real applications might be just around the corner.
Reality bytes 
China's VR market was worth 1.54 billion yuan ($239 million) last year and is expected to be well over 5 billion yuan this year. A cluster of companies, giants and start-ups alike, are working to make VR a normal part of our everyday lives.
Last year, Tencent announced its VR strategy and Alibaba unveiled its plan in March: "BUY+" will allow customers to "try on" clothes while shopping online with the help of a headset.
One step ahead of Alibaba, Sunflower has come up with VR dressing mirrors, in which virtual 3D models created from user's biodata will "try on" clothes online for customers. One of its products was set up in a shopping mall in Beijing at Christmas and attracted a flurry of attention from shoppers.
Aside from shopping, VR will be an intrinsic part of the next generation of movie experiences. At Saturday's event, movie director Gao Qunshu told Xinhua that he has already started shooting a film in VR format and movie-goers can expect to interact with screen heroes via VR devices in the near future.
Enthusiasm for VR is not restricted to entertainment, with real estate, retail and education leading the catch-up field. One Chinese property company already has a product that uses VR to let prospective buyers tour new homes from the privacy of their old home.
In education, virtual replication of natural disasters and other accidents can be effective tools in public safety and professional rescue training.
The next big areas of expansion are expected to be healthcare and exhibitions.
Virtual reality, real concerns
Industry insiders agreed that VR is not yet a realistic proposition for the average Chinese consumers, even if it is going mainstream abroad.
More than 2 million eyewear VR devices are expected to be sold around the globe this year, five times more than last year, but still a very small marketplace.
Wearing VR devices often causes dizziness, a problem which must be solved urgently if VR is to become commonplace. Nor is making VR content easy and few companies have the technological capability to do so. VR devices require extremely high quality imagery.
A kind of VR fever is spreading in China's capital market, with many businesses investing in products of little tech value just to keep up with the trend. It is a worrying market analysis.
"It will take time for VR technology and its market to evolve. We are just embarking on that journey and there is much left to explore," said exhibitor Fu Guoxin, CEO of a VR business incubator.