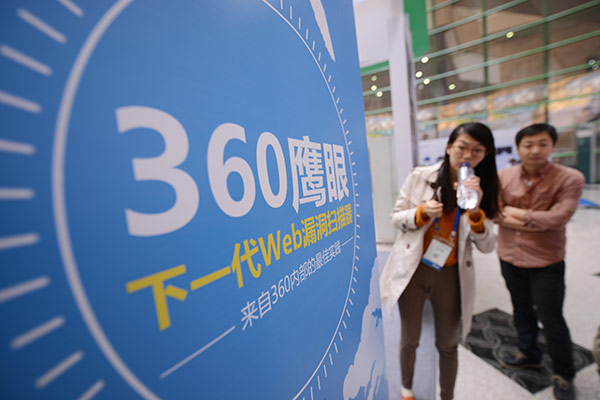 The booth of Qihoo 360 Technology Co at an expo in Zhengzhou, capital of Henan province.[ZHANG TAO/FOR CHINA DAILY]

Privatization move likely to involve re-listing of shares on a Chinese exchange, say sources
Shares in Qihoo 360 Technology Co rose to their highest since June after The Wall Street Journal reported the company was close to completing a buyout that was first announced in June, assuaging concerns it was facing difficulties finalizing the deal.
Qihoo, which develops security software and owns China's second-largest search engine, jumped 3 percent to $69.96 in New York.
The going-private transaction is expected to be completed in the coming weeks, the paper reported on Tuesday.
The deal, originally valued at about $8.4 billion, would involve re-listing the shares on a Chinese exchange, it said. The offer of $77 per American depositary receipt that Qihoo received in June would be a 13 percent premium to Monday's closing price of $67.9.
A record 34 Chinese companies on US exchanges have announced privatization deals this year totaling $32 billion. The buybacks, which stalled after a $5 trillion mainland stock market rout in June and a freeze on initial public offerings, are resuming as investors and executives seek to shift stock listings to China to unlock valuations that may not be appreciated by foreign investors.
"It shows that Chinese capital is still very enthusiastic about taking those ADRs home," said Henry Guo, an analyst at Summit Research Partners who covers Chinese companies.
"Investors earlier were worried that these companies would have a difficult time raising money in China. More Chinese companies may follow suit if Qihoo can go home successfully."
Regulators lifted the hold on IPOs as equities bounced back and 28 offerings, including 10 this week, will tie up 3.4 trillion yuan ($531.3 billion) of funds by the end of the year, according to a Bloomberg survey.
The buyouts primarily target ADRs of Chinese technology companies because they're cheap compared with their A-share peers on the mainland.
Qihoo, which is listed on the New York Stock Exchange, is trading at 16 times projected 12-month earnings, compared with an average multiple of 58 among global peers, according to data compiled by Bloomberg.