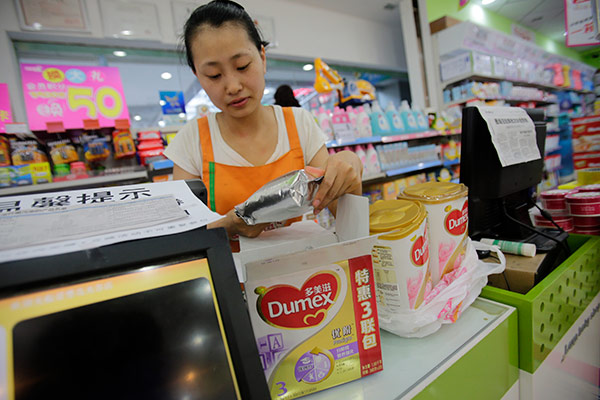 A shop assistant offers a refund for Dumex milk powder to a customer during a contamination scare in 2013 in Wuhan, Hubei province. China's infant formula market is expected to grow to 55.3 billion yuan this year.[CHENG GUO/FOR CHINA DAILY]
Danone SA, the French dairy giant, has offloaded its struggling Dumex China unit to a subsidiary of China Mengniu Dairy Co Ltd for 150 million euros ($159 million).
The Paris-based company said the sale to Yashili International Holdings Ltd, which is yet to be approved by the relevant authorities and Yashili shareholders, would create "a strong local infant milk formula brand platform".
Acquiring the loss-making infant formula producer's China unit will help Yashili to expand its distribution network in first- and second-tier cities and improve its overall brand value, said industry experts.
Yashili said in a statement that Dumex's existing sales network covers cities like Shanghai, Nanjing in Jiangsu province, and Hefei in Anhui province, regions where Yashili does not have much of a presence.
Dumex was also hit hard by a high-profile infant formula contamination scare in 2013.
Dumex's net revenue dropped from 5.37 billion yuan ($839 million) in 2012 to 1.31 billion yuan last year, with its net profit of 765 million yuan turning into a loss of 771 million yuan during the period.
Dumex was No 2 in the Chinese infant formula market after nine years of consecutive growth between 2004 and 2012. In 2013, Dumex was fined 171.9 million yuan by the country's price regulator for monopoly activity and price-fixing.
China's infant and toddler milk formula market has grown from 21.3 billion yuan in 2010 to 55.3 billion this year, and is forecast to grow to 94.9 billion by 2018, according to Euromonitor International
Dumex ranked only 12th with its share declining from 3.6 percent in 2014 to 2.9 percent so far this year. Danone's Nutricia ranked at 11th at 3.2 percent.
Swiss food giant Nestle SA had the biggest market share, 8.6 percent, followed by Hangzhou Beingmate Group Co Ltd at 7.2 percent and Mead Johnson Nutrition Co's Enfagrow at 6.5 percent.
Song Liang, an independent dairy expert, said Dumex has also been losing sales staff since 2013, but it is hoped that the Yashili takeover would allow it to quickly create a new sales team to restore confidence among distributors.
Song said Dumex's research and development center in Shanghai and its brand awareness were valuable assets that clearly appealed to Yashili.
Chinese consumers have been buying increasing amounts of foreign-made infant formula online, amid concerns over the safety of locally produced baby food after a spate of food scares.
Demand for foreign-made brands has contributed to a double-digit percentage increase in Danone's sales in Europe.
"Dumex China has little value to Danone," said Song. "It has found more profit and less risk by exporting its formula direct to China."
The deal will also enhance the company's relationship with parent company Mengniu, China's top dairy firm, he said. Danone increased its share in Mengniu from 4 percent to 9.9 percent in December 2014.