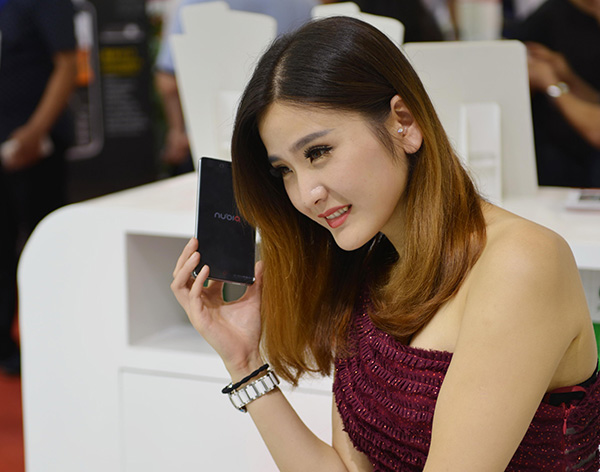 A model shows a smartphone at an exhibition in Nanjing, Jiangsu province. [Photo/China Daily]
I had not realized how much my smartphone meant to me until I lost it during the National Day holiday, when I traveled to Sanya in Hainan province. Suddenly, a feeling of isolation gripped me as I felt I had lost touch with the world.
You may think I am exaggerating, but note I lost my friends' phone numbers, chat records on WeChat, images that froze memories of good old times, mobile Internet access, Baidu's navigation app, my geographic positioning system, and many other news and e-commerce apps.
Make no mistake, a smartphone is a necessity these days. It is not just a phone but a mobile personal computer that enables me to work, click pictures, post and receive instant messages, shop and seek various services.
I can't quite remember when the mobile phone had become essential for me and, presumably, for billions of others like me. According to the Ministry of Industry and Information Technology, the number of mobile phone subscribers in China has reached about 1.3 billion, which means almost the entire nation of 1.3 billion-plus is now on the fast track of information technology innovation.
Foremost, a smartphone user is a "walking wallet", a phrase often used by Western media to describe people who spend a lot every day, either directly to buy consumer products using their phone or indirectly on periodic installment payments for the expensive device they may have bought.
Take iPhone 6 for example. It would set you back by more than 5,000 yuan ($793.65). On top of that, you will incur telephone and Internet usage costs every month.
As if that's not enough, many smartphone users change their handsets twice a year for various reasons.
Given the ease with which you can use a smartphone for online shopping and to pay for commercial services, you may end up spending much more than you had planned or budgeted for. You may do all this during work hours-unthinkable around the year 2000 when brick-and-mortar shops still reigned supreme.
A recent Beijing Youth Daily news report caught my eyes as it said the Beijing municipal government is implementing an urban infrastructure reform project involving public toilets in the capital city. Under the project the public toilets will be equipped with ATMs and Wi-Fi services in the years to come.
This seems to suggest that people can browse news or shop online while using public toilets. Smart technology will likely become omnipresent in the not too distant future.
As the number of smartphone users rose in China, e-commerce companies' sales reached 1.34 billion yuan last year, up 31 percent year-on-year, according to the China E-commerce Research Center.
Killer apps can make a smartphone all-powerful, making it an integral part of people's daily lives. For example, friends and colleagues stay in constant touch via instant messaging apps such as WeChat. In my case, the situation is worse. My new smartphone has taken over my life, so to speak.
As smartphones become bigger and bigger, desktop PCs are getting smaller and smaller. The world's top PC producers such as IBM Group Ltd and Lenovo Group Ltd have seen their business shrink while smartphone companies such as Apple, Samsung and Huawei have stolen their limelight.
It is hard to imagine what the smartphone will evolve into in the years to come. Some news reports indicated the world will soon enter the era of household robotics. Robots at home, it seems, can be controlled remotely using smartphones. There is no doubt the smartphone has become our window to the world. Without it, we will risk losing contact with the world. You and I can ill afford to lose our smartphones anymore.