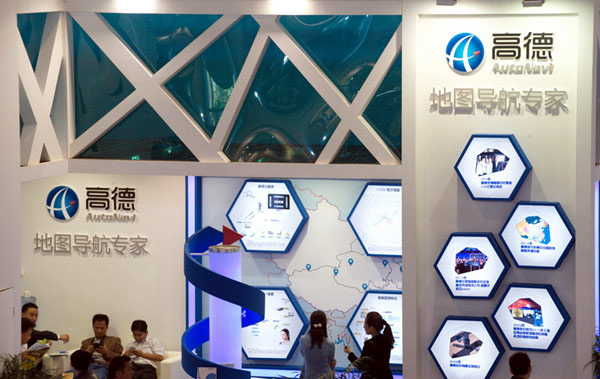 People visit the stand of AutoNavi, the Chinese map and data service provider, during the PT/EXPO COMM China 2013 in Beijing, China, 25 September 2013. [Photo / Image China]
Alibaba Group Holding Ltd, China's largest e-commerce firm, offered to buy AutoNavi Holdings Ltd in a deal valuing the Chinese digital mapping and navigation firm at $1.58 billion.
Alibaba, which already owns 28 percent of AutoNavi, has been trying to expand its product line-up to better compete with Chinese rivals Tencent Holdings Ltd and Baidu Inc.
Baidu started offering its map software for free last August, challenging AutoNavi's dominance in the Chinese navigation market.
AutoNavi followed suit by offering its own navigation software for free.
"The market for navigation and map applications and services has become increasingly challenging ... ," Alibaba said in a letter to AutoNavi, arguing that its proposal provided value that would be difficult for it to achieve on its own.
AutoNavi, which has not reported fourth-quarter results, posted year-on-year declines in revenue in each of the first three quarters of 2013. Revenue for the first three quarters totaled about $110 million.
More than half of AutoNavi's revenue comes from licensing map data for dashboard navigation systems used in cars. Customers include Audi, BMW and General Motors Co.