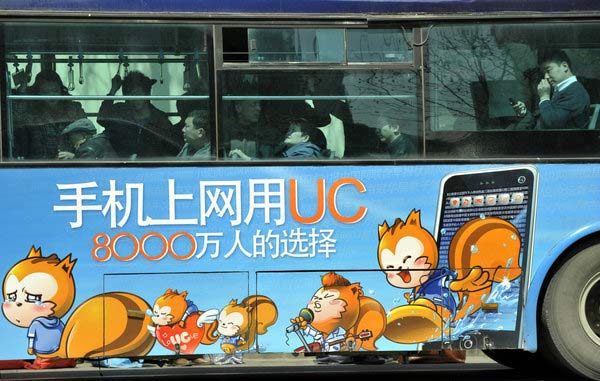 A poster of UCWeb browser is displayed on a bus in Nanjing, Jiangsu province. [File photo / CFP]
Chinese mobile Internet browser company UCWeb Inc, which recently welcomed Alibaba Group Holding Ltd Chairman Jack Ma as a board member, said emerging markets, including India and Russia, are major destinations for the company's overseas expansion.
UCWeb, which began its global expansion in 2010, saw its overseas user numbers exceed 100 million in January. The company has managed to achieve a market share of more than 10 percent in 10 countries worldwide.
India is the overseas market where UCWeb has made the most progress. According to figures from StatCounter, UCWeb had a market share of more than 30 percent in India's mobile browser market in July, overtaking Norway's Opera Software ASA to become the top player in the South Asian country.
UCWeb set up its first overseas office in India in 2011 and now has 30 employees in the country.
"UCWeb is the first Chinese Internet company that has achieved remarkable progress in markets outside China," Yu Yongfu, chief executive officer of UCWeb, told China Daily on Friday.
Yu said UCWeb separates the global market into four major segments: China, Europe and North America, Japan and South Korea and developing countries.
Different markets have different characteristics in terms of mobile Internet development, Yu said.
"For example, the Japan and South Korea market segment is quite isolated, while the US has a dominant power and guides trends in the world's mobile Internet industry," said Yu.
UCWeb is targeting developing countries as major fields for expansion. It also plans steady investment in Europe and North America in the long run, Yu said.
He said UCWeb had managed to carve out a 1 percent share in the US market through "extremely hard work".
Yu added: "So far, no foreign Internet company has had big success in the United States. UCWeb's achievement may set a record for non-American enterprises and give them a little bit of confidence."
Globally, UCWeb has more than 400 million users. The Beijing-based company aims for an initial public offering in the US. However, Yu said, he doesn't want to list in a rush, since UCWeb can still expand to a larger scale and get a better listing price.
"To be listed is like a wedding ceremony. We choose to get married later rather than earlier," he said.
On Thursday, UCWeb confirmed that Ma joined the company's board. "Jack Ma has a vision that no one can match. He will help UCWeb to grow without detours," Yu said.
Alibaba and UCWeb will have deep cooperation in e-commerce and mobile payments, he added.
In an internal letter sent by Ma to mark UCWeb's ninth anniversary recently, Ma said UCWeb's mobile browser is an important component of the Internet that helps people connect with the world.