Strong IPO lineup on US bourses
Updated: 2013-11-04 15:46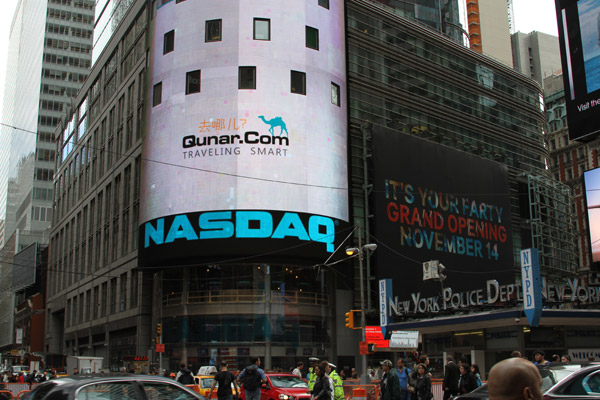 Chinese firm Qunar listed on Nasdaq in New York on Friday. [Photo / China Daily] 
BEIJING -- Two Chinese Internet stocks have seen their shares soar after debuting on US stock markets last week, reaffirming overseas investors' appetite for Chinese stocks amid a high-profile spat between US-listed Chinese companies and short-sellers.
Qunar, an online travel fare website majority-owned by Chinese search giant Baidu, saw its share price nearly double on the first of day of trading on the Nasdaq to close at $28.4 on Friday. Shares of 58.com, China's answer to Craigslist, rose more than 45 percent after going public a day earlier on the New York Stock Exchange.
The strong performances were in stark contrast to NQ Mobile, whose shares tumbled by as much as 50 percent after short-seller Muddy Waters accused the Beijing-based mobile security software company of lying about its user base and revenue.
The claim sparked a fresh round of sell-offs of US-listed Chinese companies, often dubbed "Chinese concept stocks," making major Chinese tech and Internet stocks the biggest casualty.
However, the week ended on a bright note as investor confidence in China's booming Internet sector buoyed shares of 58.com and Qunar. NQ Mobile also recovered slightly after the company refuted accusations made by Muddy Waters.
"Chinese tech companies are making a comeback on US markets," said Xu Feng, a partner at Shanghai Huarong Law Firm. "Most of these firms are backed by foreign venture capital and going public in the United States makes it easier for early investors to cash out."
With 130 million monthly users and 4.3 million merchants, 58.com is the largest online classifieds distributor in China, giving small offline vendors broader online exposure to customers. It makes money through a membership fee and priority placements from vendors.
Website Qunar.com is the most visited travel website in China, according to a 2012 Nielsen research report Qunar cited in its prospectus.
The fact that the company is still operating at a loss has not quashed interest in its stock and growth prospects. Unlike its domestic rival and also Nasdaq-listed Ctrip that earns commission from each purchase made on its website, Qunar generates most of its revenue through display advertising and charging travel service providers on a cost-per-click basis.
Qunar and 58.com joined Beijing-based online retailer Lightinthebox as the only three Chinese companies to have been listed on US bourses so far this year, a sharp fall from a peak of 40 in 2010.
The slowdown is because US securities regulators have raised the bar after short-sellers such as Muddy Waters uncovered fraudulent activities in a string of US-listed Chinese companies in 2011.
Short-sellers sell borrowed shares in the hope of buying them back at a lower price and earn the difference after returning the shares.