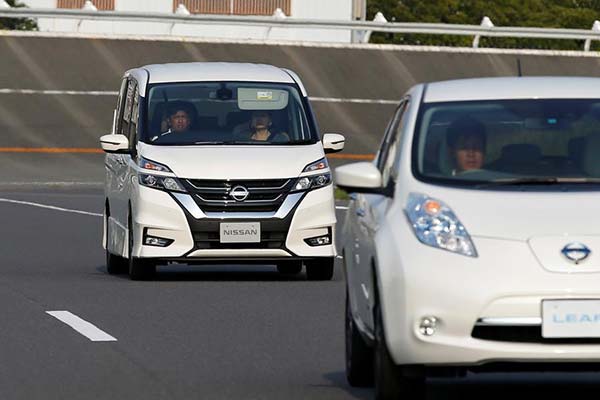 Nissan's new Serena (L) minivan which is equipped with Propilot semi-automated driving functions, follows a leader vehicle at the company's test drive facility in Yokosuka, Japan July 12, 2016. [Photo/Agencies]
BEIJING - Chinese consumers showed rising interest in self-driving cars despite concerns over safety, a ten-country report showed Monday.
In China, about 81 percent of the surveyed consumers, roughly 500, were willing to try autonomous cars, an increase from 75 percent last year, according to a report released by Boston Consulting Group (BCG) and the World Economic Forum.
The report, "Self-Driving Vehicles, Robo-Taxis, and the Urban Mobility Revolution," builds on earlier research by BCG and the World Economic Forum, including a survey conducted in August 2015 of more than 5,500 consumers in ten countries -- the largest global survey on self-driving vehicles (SDVs) to date.
In comparison with China's rising interest, German consumers, who expressed the most reluctance of the three countries in the earlier research, were slightly more risk-averse this year with 41 percent saying they would be willing to try a fully self-driving car, compared with 44 percent in 2015. American consumers are slightly, but not significantly, less positive, with 48 percent compared with 53 percent last year.
Despite media coverage on the safety of autonomous driving, public opinion does not appear to have changed significantly. Some 58 percent of consumers in cities around the world are open to trying out a fully-autonomous car. Willingness is highest among younger consumers: 63 percent of those aged 29 or younger are willing to ride in a full SDV, compared with 46 percent of those aged 51 or above.
Widespread urban adoption of SDV and "robo-taxis" or self-driving taxis, could result in a 60 percent drop in the number of cars on city roads, an 80 percent or greater decrease in tailpipe emissions, and 90 percent fewer road accidents, according to the report.
"There is a compelling case to be made for SDVs in cities," said Nikolaus Lang, a BCG senior partner and coauthor of the report, adding that ride-shared, electric robo-taxis can substantially transform and improve urban transportation and, by direct extension, livability, by providing more people with easier access to mobility, making the streets safer, and freeing up space previously used for parking.
China is taking a leading position in developing autonomous cars worldwide, with Baidu standing out as the market pioneer. The company generated a lot of excitement when it successfully completed a rigorous road test in Beijing in December.
Baidu wants to commercialize driverless technology by 2018 and to achieve mass production of the cars by 2020. It has partnered with Wuhu City, a Shanghai-based automobile industrial park and a tourist destination in Wuzhen to test driverless cars this year.