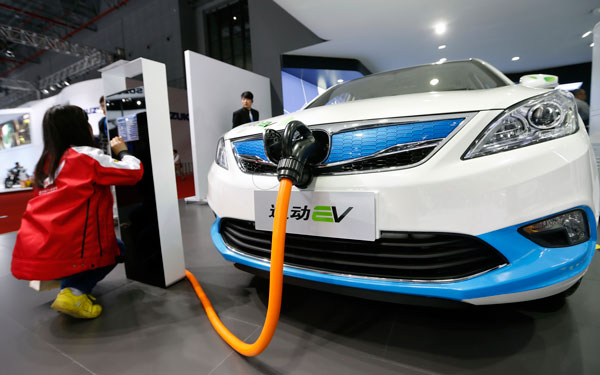 A woman charges a new-energy vehicle at the Shanghai Auto Show in April of last year. Industrial insiders believe the sales and usage of new-energy vehicles will ramp up this year. [Photo/Xinhua]
Technological advances of vehicles and facilities steer further development of market
Editor's note: As we ring the new year, China Daily reporters Hao Yan and Li Fusheng interviewed researchers and experts to share their thoughts on issues that are expected to have a major impact in 2016.
New-energy vehicles
Industrial insiders believe that sales and usage of new-energy vehicles will be further boosted this year, as the central and local governments launch more support policies. NEVs are not bound by some local restrictions on purchase and use, which has added the cars to potential buyers' shopping lists.
More cities are applying similar policies, such as Tianjin. As a result, more people in cities that restrict the purchase and use of gasoline vehicles are likely to become NEV owners, despite the possibility buyers might receive fewer subsidies in the future.
Aftermarket
The estimated annual value of the Chinese aftermarket is 600 billion yuan ($92 billion). Researchers and experts see 2016 and 2017 as critical for the development of the aftermarket. Cars bought five years ago, during the previous automobile boom, are entering the stage of requiring frequent and more intensive maintenance.
However, there exists a large gap between service levels and customer confidence. The authorized 4S dealerships, which are more trust worthy, usually charge higher prices. Other shops have better deals but are in a niche market for car owners with better knowledge of vehicles and parts.
Intelligence
Some automakers joined the intelligent vehicle race recently by displaying or testing their autonomous driving cars. Others are offering smart assistance in systems, for example, in parking, piloting, braking, and keeping a safe distance from other vehicles.
Adding such functions is made possible not only by technological developments, but also by parts suppliers being able to reduce costs. Sensors and cameras are going to be less expensive this year, and the maps and GPS used for navigation and driving assistants are getting more and more accurate. Thus, carmakers are more likely to put them into more models, making them accessible to many more customers.
Internet Plus
The Internet Plus strategy introduced by Premier Li Keqiang looks to integrate the mobile Internet, cloud computing, big data and the Internet of Things with modern manufacturing to boost efficiency. The nation hopes Internet Plus will drive the restructuring and transformation of conventional manufacturing.
The strategy is also transferring vitality to automobile industries through innovative approaches and channels. It might not be easy for an old auto giant to learn new tricks, but it is easier for complementary companies to reach agreement on joint development. Additionally, Internet companies are often rich in cash flow, in addition to their expertise in connectivity.
Auto sales
China's auto sales are expected to rise more rapidly in 2016. The auto market's growth rate would be similar to that of China's GDP, Dong Yang, executive vice-president of the China Association of Automobile Manufacturers, wrote on his blog. Jin Jun, a partner at PwC China, agreed with Dong's projections, saying customer demand was curbed to some extent in 2015 due to such factors as turbulent stock prices. The newspaper China Automotive News estimated the growth rate in 2016 would stand at around 5.7 percent. In the first 11 months of 2015, China sold 21.79 million vehicles, a meager 3.3 percent increase year-on-year.
A woman charges a new-energy vehicle at the Shanghai Auto Show in April of last year. Industrial insiders believe the sales and usage of new-energy vehicles will ramp up this year.