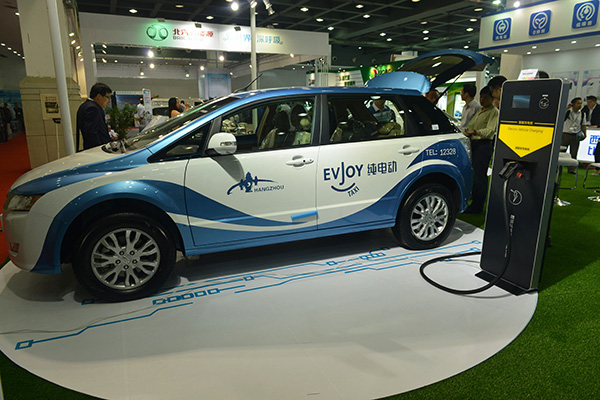 A BYD electric car at an auto show in Hangzhou. Newly built housing in China will be expected to install charging post for each parking spot. [Photo/China Daily]
The State Council is mulling new policies to accelerate the construction of charging facilities for electric vehicles.
At an executive meeting of the State Council on Wednesday, several topics related to electric car charging infrastructure came under discussion.
One of the topics called for newly built a housing to include a charge spot for a charging post in each parking space. It also discussed having large public buildings and public car parks set aside at least 10 percent of their parking spaces for charging posts.
Another topic was welcoming capital investment on electric car infrastructure, such as public car parks. Individuals and companies would be encouraged to help invest in such parking lots.
The State Council is also encouraging companies and residential complexes to install charging posts in existing parking lots.
Moreover, it plans to increase incentives to support the construction of charging facilities and car parks. It will allow companies that offer charging services to collect not only electricity fees but service fees from customers.
The State Council said it will improve standards and regulations related to the construction of charging stations and offer services, such as charging stations along highways and parking information applications.
The State Council said the moves will boost the development of new-energy vehicles in China, accelerate the construction of car parks in cities, drive up investment and consumption and help the country's green development.
The Ministry of Housing and Urban-Rural Development made the construction of charging facilities part of its guidelines on city parking facilities earlier this month.
Liu Heming, a senior officer with the department of city development at the ministry, said the guidelines request that charging posts for electrical vehicles be installed in car parks, according to Xinhua News Agency.
According to the guidelines, at least 18 percent of parking spaces at newly built housing in Beijing must be designated for charging posts.
Beijing authorities announced earlier this year that it was drafting a plan for charging infrastructure construction in the city.
The plan would also standardize charging posts and request that newly built housings, office buildings, shopping malls, hospitals, hotels and tourist areas must include charging posts in their parking lots.
The plan is expected to be issued by the end of the year.