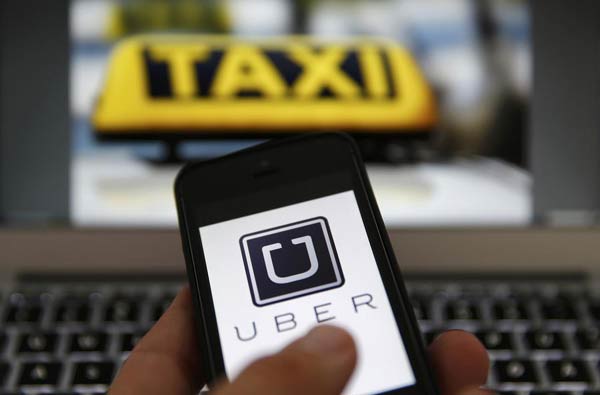 A file illustration picture shows the logo of car-sharing service app Uber on a smartphone next to the picture of an official German taxi sign in Frankfurt, September 15, 2014. [Photo/Agencies]
BEIJING -- Uber and Hainan Airlines (HNA) jointly announced cooperation on Monday to link ride-sharing services with flights as the US company is vying for a bigger market share in China.
HNA customers will enjoy Uber pick-up services at a discount and they can complete their flight check-in en route to airports. Guests at HNA's hotels can also take Uber cars at lower prices.
Uber and HNA will consider the inclusion of each other's products and services into their mobile apps. They will also cooperate in the financial sector.
According to Uber founder and CEO Travis Kalanick, the cooperation is of far-reaching significance for his company, which attaches great importance to the China market.