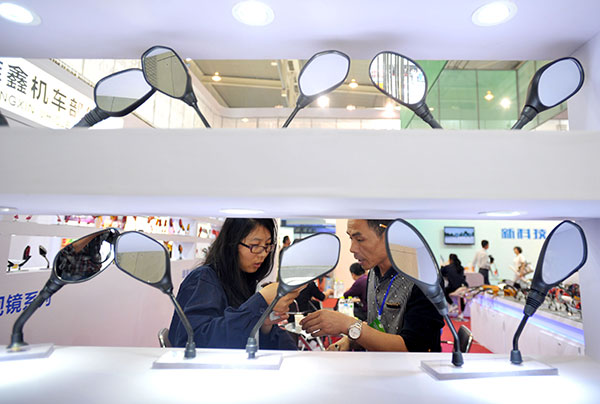 Some Chinese firms have invested heavily in the the Middle East and North Africa region's auto parts sector. [Provided to China Daily]
The Middle East and North Africa region, or MENA, is poised for a 61-percent surge in the number of cars on city streets by 2020, with an expanding spare parts market attracting more Chinese investment.
Speaking at the recently concluded Automechanika Dubai 2015, the biggest exhibition in the region for aftermarket auto spare parts, Avery Chan, from tire producer Hengfeng that is based in Shandong province, said his firm is invested heavily in the region's tire replacement business.
Hengfeng is one of 549 Chinese firms out of 1,889 companies that have exhibits at this year's Automechanika.
Shiva Kumar, manager of India's Bangalore-based Popular Tyres company, said the biggest advantage for him as a distributor are the lower prices from China as compared to other countries. "However, you have to be picky with the brands. There are many producers in China and we look precisely at every single product before we order."
According to global consultancy Frost and Sullivan, the number of cars in the MENA region will surge 61 percent from the current 21.02 million to 33.91 million passenger vehicles by 2020, driving the demand for tire replacements, auto paint jobs and vehicle maintenance.
Car remains the key means of transport in the Arab world due to a lack of public transport. Saudi Arabia is the biggest market, according to the market analysis by Frost and Sullivan.
Zhejiang Just Power Supply, a producer of car batteries from Hangzhou, capital of Zheijiang province, also presented at the fair, held in Sheikh Saeed Halls at the Dubai World Trade Center.
The firm told Xinhua News Agency that business is growing 15 percent per year, "which means we double sales volume every five years".
"Two key aspects were behind Just's success ... our product quality, as we produce German and Japanese battery standards, the two highest in the world, and the customer service for passenger car owners and commercial vehicle owners alike," he added.
The market for commercial vehicle spare parts in Saudi Arabia alone is poised to increase from $2.05 billion to $3.65 billion by 2020.
A first time exhibitor, Pascal Yan, managing director from Beijing Mytech International, said he met a lot of potential customers.