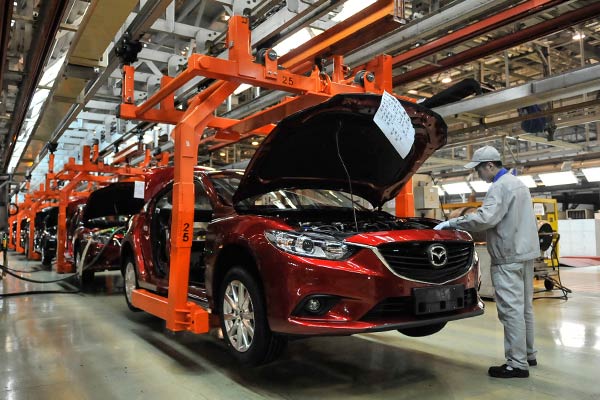 A Mazda rolls off the production line of the marque's joint venture with FAW. Toyota and Mazda Motor Corp announced a long-term partnership that will go beyond project-based industry tie-ups. [Photo/China Daily]
Toyota and Mazda last week announced a long-term partnership to synergize advantages in environmental and safety technologies, but the impact of that on their production in China is in doubt.
The Japanese carmakers said a joint committee would be organized to figure out the details of the tie-up, and engineers would work together on new product development.
"The two carmakers may share their platforms and model line-ups. Toyota has been doing so for some models," said Zeng Zhiling, managing director of LMC Automotive Consulting (Shanghai) Co.
Toyota and Mazda have been collaborating in technology and manufacturing. Toyota has licensed Mazda to use Toyota's hybrid power train and fuel-cell technologies, while Mazda is producing small Toyota cars in Mexico based on the Mazda 2. However, in China, none of either automaker's products are among the 10 most popular models, according to industrial data.
Toyota plans to launch 15 models in the Chinese market in the next three years, aiming at a volume of 2 million units by 2020.
Toyota, the world's No 1 carmaker by volume, saw its sales in China grow 12.5 percent year-on-year to 1.03 million units last year, which broke the 1-million sales mark for the first time, but remained below its 1.1 million target. Toyota China this year maintained its sales target at 1.1-million-units.
Toyota China and Mazda China have both failed to meet their Chinese market sales target for four consecutive years from 2011, after the deterioration of Sino-Japanese relations.
Mazda China sales of 211,013 units in 2014 was close to its 220,000 target, despite a sales increase of 13 percent from 2013. It's target for 2015 remained at 220,000 units.
A news release from Toyota and Mazda said the partnership would "go beyond the traditional framework of cooperation ... in the expectation of making better cars and making the cars more appealing."
"The actions may have minor influence on Chinese market, as their global joint efforts may not reflect in their joint ventures in China," Zeng said.
Both automakers have entered into joint ventures with FAW Car Co Ltd in China. Toyota is also working with Guangzhou Automobile Group, while Mazda is also in a joint venture with Chang'an Automobile.
"Looking back at when Mazda was controlled by Ford, Chang'an Mazda and Chang'an Ford did not realize synergy in China," Zeng added.