Carmaker continues Chinese market expansion with new SUV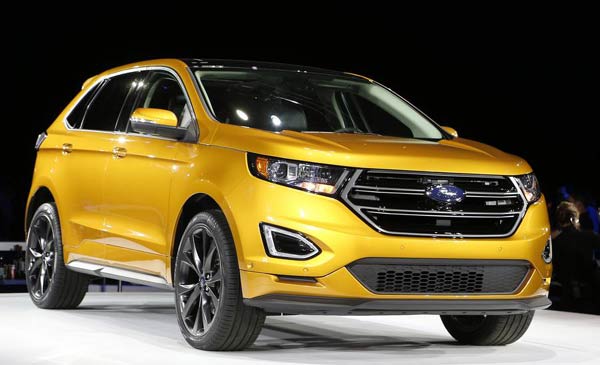 Ford Motor Co unveils the 2015 Ford Edge in Dearborn, Michigan June 24, 2014.[Photo/Agencies]
Ford Motor pledges to deliver more vehicles with eco-friendly engines and affordable technology to Chinese customers, said CEO Mark Fields.
"When our customers step into the showroom, we want to be there for them with whatever type of vehicles that they are looking for, but also offer great fuel economy," said Fields.
He made the remarks after a new SUV rolled off Ford's assembly line at the company's plant in Hangzhou, Zhejiang province, on March 24.
The seven-seat Edge was especially designed for Chinese customers as part of a 2011 campaign to deliver 15 new products to the market by 2015, according to the company.
"We have a strong commitment to China... our business here in China will play a very important role in not only the growth for this year but also as we go forward as a company," said Fields.
A growing portfolio has enabled the automaker from the United States to compete in more areas of the world's largest auto market.
Ford now offers products in 55 percent of all segments. Its market share grew to 4.5 percent in 2014 from 2.5 percent years ago and its joint venture with China's Changan Group, Changan Ford, was ranked sixth among passenger vehicle makers in the country in 2014 from 14th position in 2012, said Fields.
Ford is expected to continue expanding its presence in China. It is due to introduce a premium sedan Taurus into the country later this year, according to Marin Burela, head of Changan Ford.
The joint venture is acquiring a passenger car production facility in Heilongjiang province, which many analysts believe will help the brand gain a firmer foothold in China's vast northeastern region.
Ford is also revitalizing its Lincoln brand in China. Fields said its sales performance has exceeded his expectations month by month since its re-entry into the Chinese market in April 2014.
Fields said that Lincoln's top three sellers are located in China, although he did not release specific sales statistics. It now has 11 dealers in the country and plans to scale up the number to 60 by 2016.
He said another two Lincoln models, the crossover MKX and full-size SUV Navigator, will be introduced later this year. "I am hopeful that sometime later the largest market for Lincoln will be here in China."
Speaking of the fierce competition in the Chinese auto market, Fields said rivalry energizes Ford. "We take competition head-on and win," he said, and added that he believes innovation is one of the most powerful tools to stay competitive.
"Innovation is crucial to growth in not only China but also across the world and a big focus of our company is unleashing the innovative spirit of our people," said Fields.
He said Ford sees itself as not only a carmaker but also a mobility company. He added that the company is conducting 25 experiments in a number of countries, including China, to test new ideas like car-sharing, ride-sharing, autonomous driving and the Internet of Things.