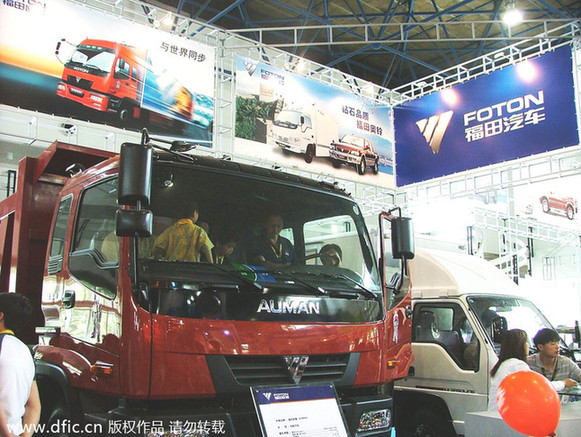 Visitors try a Beiqi Foton Auman truck during Beijing International Science and Industry Fair in Beijing, 2004. [Photo/icpress.cn]
COLUMBUS -- Chinese automaker Beiqi Foton introduced its new Foton GTL Truck to the world market here Tuesday.
Powered by the ISG diesel engine mainly developed by Cummins, the world's largest independent diesel engine maker based in Columbus, Indiana, the new heavy-duty truck model was the result of a five-year cooperation program of Beiqi Foton, Cummins and Daimler.
"Through joint-venture cooperation with Cummins and Daimler, respectively, and by leveraging the complementary strengths of Cummins, Foton and Daimler, we are able to provide customers the values and benefits they care about most," said Wang Jinyu, general manager of Beiqi Foton at the launch ceremony.
"It once again demonstrates the vigor and strength that a win-win partnership can bring to both companies," said Steve Chapman, vice president of Cummins for China and Russia.
The new truck is more fuel efficient, safer and more economic. It can satisfy the Euro V emission standard, making it capable to enter most of heavy-duty truck markets in the world.
At the launch event, Beqi Foton and Cummins also signed a contract to develop a new diesel engine that meets Euro VI emission standards and is expected to be mass produced in 2016.
Founded in 1996, Beqi Foton and has quickly grown into one of China's largest producers of commercial vehicles, including light-duty and heavy-duty trucks. The company said it produced more than 670,000 total vehicles in 2013.