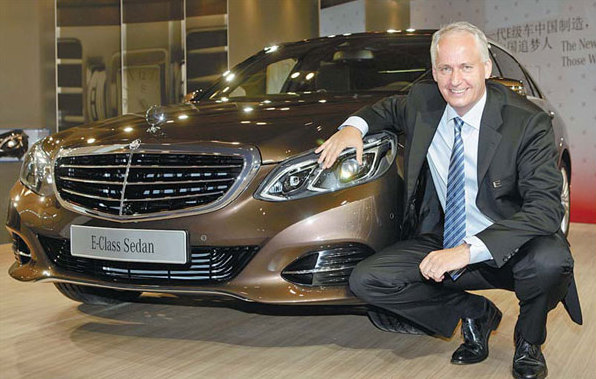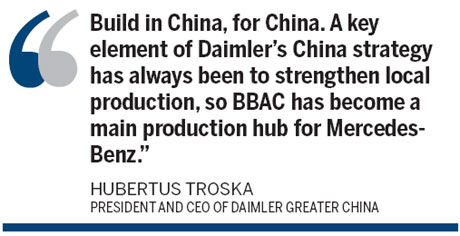 Daimler's decade-long partnership with BAIC Motor has been a win-win relationship based on trust and long-term commitment, according to the company's senior official.
The cooperation with its local partner has been an important pillar of success in China, which is a key market for Mercedes-Benz , said Hubertus Troska, a member of Daimler's Board of Management and president and CEO of Daimler Greater China.
The Sino-German partnership was launched in 2003, when both partners signed a framework agreement on strategic cooperation, and over the following decade their resulting joint-ventures in China, namely Beijing Benz Automotive Co and most recently Beijing Mercedes-Benz Sales Service Co, have produced remarkable results.
"Build in China, for China. A key element of Daimler's China strategy has always been to strengthen local production, so BBAC has become a main production hub for Mercedes-Benz," said Troska. "With the establishment of BMBS on March 1 and Mercedes-Benz' strong offensive in product and network expansion, we have set the course right for future sales growth in China."
The latest milestone for the two companies is the launch of the new long-wheelbase E-Class launch at the Chengdu Motor Show. In fact, the E-Class, which has been produced at BBAC since 2005, was the first ever Mercedes-Benz model to be locally produced in China.
Since its introduction, the E-Class has been one of the core products shaping Mercedes-Benz's growth in China.
Additionally, the long-wheelbase version of the prestigious executive limousine is the first, and to this day only, Mercedes-Benz tailor-made for a single country.
Troska said he believes the new E-Class, which comes in two distinct model lines with new technology taken directly from the brand's flagship all-new S-Class premiering later this year, will be a big hit with Chinese consumers.
"The E-Class has always been at the core of our development here. And with the new model we demonstrating once again that Mercedes-Benz is putting the customer first," he said.