Buyers of electric vehicles in Beijing will receive car plates without participating in the car license plate lottery, authority said on Thursday.
Weekly Report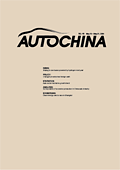 Bejing will release a series of policies to encourage residents to buy electric pa
sse
nger vehicles, said Chen Guiru, deputy dire
cto
r of Beijing New
Energy
Automobile Development Promotion Center.
People who buy electric vehicles will also receive government subsidies.
Those measures will take effect in the first half of this year, according to a report by Xinhua News Agency.
However, drivers of electric cars still have to obey the odd-even license plate number limit regulation.
The rule, launched in 2008, restricts private cars from being driven one day a week, based on the final digit of the car license plate.
For more subscription details ofAutoChina, please visit our E-Shop.