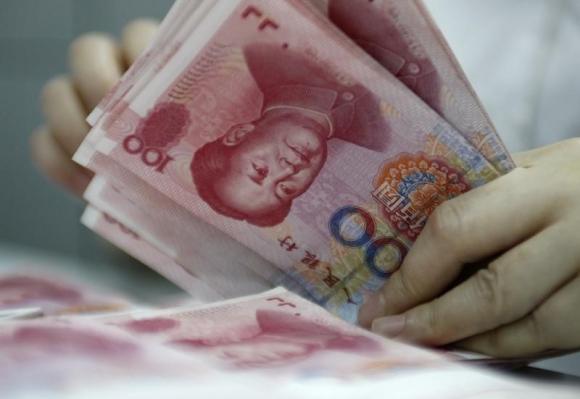 An employee counts yuan banknotes at a bank in Huaibei, Anhui province June 22, 2010.[Photo/Agencies]
BEIJING - China's new yuan-denominated lending in February hit 1.02 trillion yuan ($166.7 billion), up 376.8 billion yuan from one year earlier, official data showed on Thursday.
M2, a broad measure of money supply that covers cash in circulation and all deposits, increased 12.5 percent year on year to 125.74 trillion yuan at the end of February, higher than the 10.8-percent growth seen in January, according to data released by the People's Bank of China, the central bank.
The narrow measure of money supply (M1), which covers cash in circulation plus demand deposits, rose 5.6 percent year on year to 33.44 trillion yuan.
Total private financing in February stood at 1.35 trillion yuan, up 460.8 billion yuan from a year ago, said the central bank.
Total outstanding loans stood at 90.28 trillion yuan at the end of February, up 13.8 percent from previous year, while outstanding deposits rose 11.4 percent year on year to 126.47 trillion yuan.
"The year-on-year M2 growth in February was higher than expected, thanks to the implementation of an expansionary fiscal policy," said Bob Liu, an analyst at the China International Capital Corp.
The large counter-seasonal decline in fiscal deposits by 470.5 billion yuan was a key reason for the significantly higher M2 growth in February, Liu added.
He said over January-February, fiscal deposits increased 229.5 billion yuan, much less than the increase of 576.5 billion yuan a year earlier, while year-on-year growth slowed to 4.7 percent.
"This may be a sign that the implementation of a really expansionary fiscal policy has begun," he said.
Liu added that usually fiscal spending begins in March rather than in February. The early fiscal spending this year is needed to stabilize the economy and also pushed up year-on-year M2 growth in February.
The new yuan loans amount slightly exceeded expectations of 1 trillion yuan and the rise in loans to the corporate sector suggested an improved credit structure, according to the analyst.
Dragged down by a housing slowdown, softening domestic demand and unsteady exports, China's economy grew in 2014 by 7.4 percent, the weakest in 24 years. And a string of economic indicators for the new year, including manufacturing and trade data, all suggested continued weakness.
To arrest the economic slowdown, China's central bank announced on Feb. 28 that it would slash benchmark deposit and loan interest rates by 25 basis points, the second such cut in three months.
Previously, it had lowered the reserve requirement ratio (RRR) for banks to inject more monetary to the economy
But analysts largely believe more such easing moves will be needed.
"Policy adjustments may still be a bit too slow relative to the deterioration of economic data. We maintain our forecast of six more RRR cuts and one more 25 basic points benchmark interest rate cut this year," said Bob Liu.