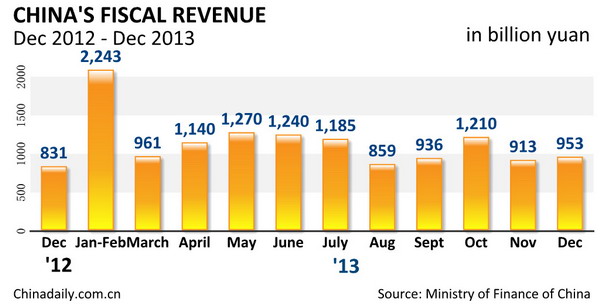 BEIJING - China's fiscal revenue climbed 10.1 percent year on year in 2013 to reach 12.91 trillion yuan ($2.11 trillion), the Ministry of Finance said Thursday.
The growth pace, however, slowed from the 12.8 percent reported in 2012 and 24.8 percent registered in 2011.
Of the total fiscal revenue, tax revenues reached 11.05 trillion yuan, up 9.8 percent from one year earlier, but growth was down 2.3 percentage points from the 2012 level.
Revenues from domestic value-added tax gained 9 percent last year to 2.88 trillion yuan, while those from domestic consumption tax increased 4.5 percent to 823 billion yuan, the ministry said.
Corporate income tax revenue rose 14 percent year on year to 2.24 trillion yuan.
The country's fiscal expenditures rose 10.9 percent from one year earlier to 13.97 trillion yuan, the ministry said.  
This brought the national fiscal deficit for the year to 1.06 trillion yuan, or 1.86 percent of the country's gross domestic product in 2013, according to calculations based on preliminary data released by the National Bureau of Statistics.
The deficit figures were better than expected when the country's economic growth last year slowed to the lowest rate in 14 years.
The government had budgeted for an annual deficit of 1.2 trillion yuan, or about 2 percent of the GDP, in 2013.