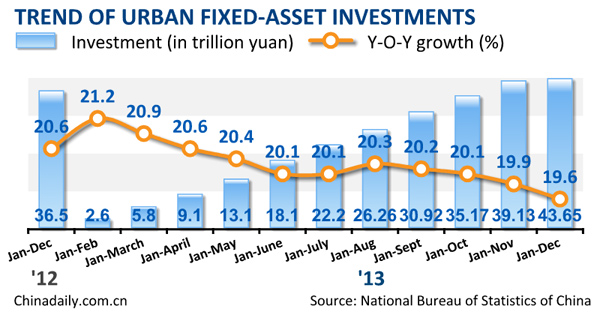 BEIJING - The annual growth of China's urban fixed-asset investment cooled to 19.6 percent in 2013, the National Bureau of Statistics (NBS) announced on Monday.
Urban fixed-asset investment expanded to 43.65 trillion yuan ($7.19 trillion) at the end of 2013, bureau data showed.
The growth rate was 0.3 percentage point lower than that of the first 11 months of last year and 1.1 percentage points lower than that of 2012, according to the NBS.
In 2013, fixed-asset investment from the private sector, which accounted for 63 percent of total fixed-asset investment, registered a faster growth rate, at 23.1 percent, than the total.
The growth of private investment also cooled in 2013, by 1.3 percentage points from 2012, and its share in total fixed-asset investment went down by 1.8 percentage points, the data showed.
The data also showed that fixed-asset investment by foreign businesses increased by 4.5 percent year on year in 2013, down from 4.7 percent for the first 11 months of last year.
Investment in the primary industry hit 924.1 billion yuan, up 32.5 percent from 2012, while investment in the secondary industry amounted to 18.48 trillion yuan, up 17.4 percent year on year. Investment in the tertiary industry expanded 21 percent year on year to 24.25 trillion yuan.
Investment in China's western regions grew by 23 percent year on year, followed by 22.8 percent in the central areas and 17.9 percent in the east.