Foreign direct investment into China maintained its momentum in August, adding to signs of an upturn in the economy and growing investor confidence.
The Ministry of Commerce said on Tuesday that FDI inflow, excluding that to financial services, rose to $79.77 billion from January to August, up 6.37 percent year-on-year.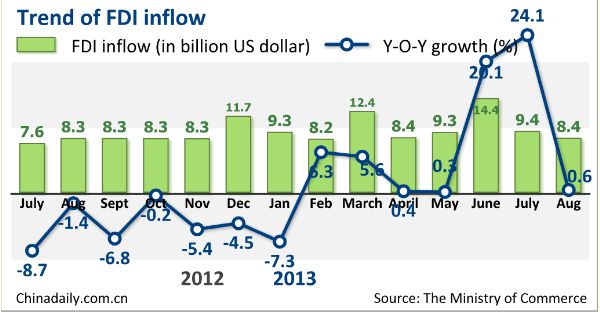 In August, the inflow was $8.38 billion, up 0.62 percent year-on-year but substantially lower than the 24.13 percent growth in July and 20.12 percent increase in June. However, ministry spokesman Shen Danyang said this is due mainly to a high base figure a year ago.
"Fluctuations in a single month are insufficient to reflect the big picture on FDI. There is no need to worry about (a reverse) in the trend," Shen said.
FDI to China reversed its slide in February and has maintained continuous growth, effectively supporting competitiveness of the nation's economy and global investors' confidence in the country's investment environment, he said.
But FDI globally has remained sluggish since last year amid slow economic growth.
"China's attraction for FDI this year is outstanding compared with other economies, and this growth will be steady in following months," Shen said.
FDI inflow for the whole year is expected to be higher than last year, although the yearly growth rate will probably not be very high. "We now focus more on the quality, structure and effectiveness rather than on growth pace," Shen said.
China's economy grew by 7.7 percent in 2012, the slowest in 13 years. Growth stood at 7.7 percent for the first three months of this year and slowed to 7.5 percent from April to June, but recent data suggest a rebound in growth.
Premier Li Keqiang said during the "Summer Davos" in Dalian, Liaoning province, last week that China's economy has entered a phase of medium and high growth. He reassured the world about the national economy's health, saying China will reach its target of 7.5 percent growth this year despite the complex global economic situation.
Lian Ping, chief economist at the Bank of Communications, said, "China's economic growth has showed more signs of recovery and the FDI inflow is, on the whole, in line with the trend."
The central government's measures to stabilize economic growth have strengthened global investors' confidence, while the efforts of deepening reforms helped investment and boosted the FDI inflow, Lian said.
"FDI in China will maintain steady growth in view of the potential investment opportunities in the country."
Responding to recent financial market turmoil in developing economies, Shen said, "China's economic growth is improving, and the trend will not be changed or affected by the temporary difficulties in some emerging countries."