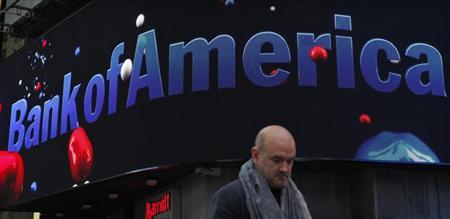 A man walks next to a Bank of America branch in New York October 24, 2012. [Photo/Agencies]
New York - Bank of America Corp raised $1.47 billion by selling its remaining stake in China Construction Bank Corp (CCB), ending an eight year-old investment that generated a paper profit more than five times the original cost.
The Charlotte, North Carolina-based bank sold 2 billion Hong Kong-listed shares of CCB at HK$5.70 each, a 3.9 percent discount to Tuesday's close, a term sheet of the deal seen by Reuters showed. CCB's Hong Kong traded shares fell 2.2 percent on Wednesday.
BofA joins a list of Western financial institutions that have found that their investments in Chinese financial firms did not give them the foothold they had hoped for in that country.
"The only thing that will be central to banking in China will be China's domestic banks," said Donald Straszheim, head of China research at International Strategy & Investment Group in Los Angeles.
Bank of America's exit makes it the second US bank to completely sell out of a China bank investment this year, after Goldman Sachs offloaded its remaining $1.1 billion stake in Industrial and Commercial Bank of China Ltd.
Goldman Sachs grossed $10.1 billion from selling its ICBC stake after investing $2.58 billion in 2006, using internal funds that invest a mix of client, employee and corporate cash.
BofA's past three sales of CCB stock since August 2011 have helped raise $16.37 billion, according to Reuters calculations.
The original 9.9 percent stake was purchased by Merrill Lynch for $3 billion in 2005 ahead of the Chinese bank's initial public offering. BofA assumed the stake when it purchased Merrill after the bank and brokerage nearly collapsed in the 2008 financial crisis.
The Chinese banking system has shown signs of stress, with bad loans picking up as economic growth slows. As a result, several Chinese lenders are preparing to launch equity sales to bolster their capital bases.
But even before the Chinese banking sector weakened, many US and European banks decided to sell the assets to bolster their own capital bases and focus on their main businesses.
Since US and European banks began building stakes in Chinese banks, new international capital rules have been formulated, which will make it more expensive for them to own shares of other financial institutions.
Bank of America said on Tuesday that it expects to record about a $750 million gain before taxes on the stake sale. With that profit, its total gains from dividends and selling shares will amount to nearly $18 billion before taxes, according to regulatory filings between 2009 and 2013.
At the time, Bank of America's then chief executive Kenneth Lewis said the partnership was designed to give Bank of America more access to roughly 1.3 billion Chinese consumers, while CCB would benefit from BofA's US retail banking experience.
The US bank increased its holdings in following years, before paring it down starting in 2009. In 2011, the bank raised a combined $14.9 billion from selling shares in CCB to a group of investors that included Singapore's Temasek Holdings.
Bank of America launched Tuesday's sale after a lock-up on its remaining stake expired last month. The bank will continue its strategic partnership with CCB in business areas like customer service and sales models, the bank said in a press release.
Bank of America shares closed at $14.25 on Tuesday, up nearly 1 percent from Friday's close.