Shopping via mobile devices is catching on rapidly in China, with the country's Internet giant Alibaba Group announcing that its Taobao mobile shopping app had attracted 100 million new users in the first half of this year.
Taobao.com, which is owned by Alibaba, said in a news release on Thursday that there had been a threefold increase in the number of customers in the first half compared with the same period last year. It included both active users of the company's mobile shopping apps and those who visited its online marketplaces via mobile devices.
The company did not disclose the total value of purchases made via mobile devices, but it said its share of total online transactions through mobile shopping had risen massively between January and June.
According to the company, about 339,000 vendors on Taobao's online marketplace reported that more than 30 percent of their individual turnover was generated by purchases made via mobile devices by the end of June. The number of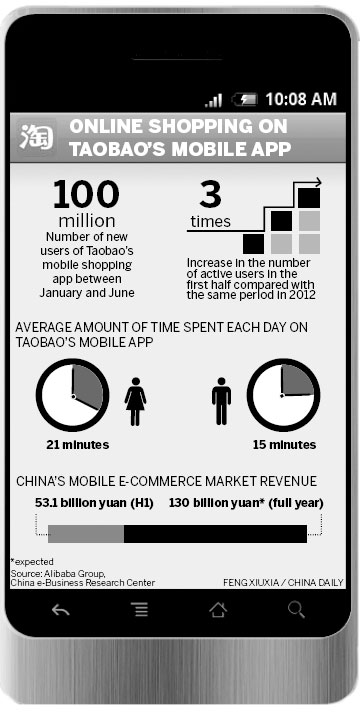 vendors increased by 412 percent year-on-year.
Taobao is not the only winner from China's boom in mobile-based shopping.
Statistics from the Hangzhou-based China e-Business Research Center showed that the turnover of the mobile e-commerce market in China increased by 44.1 percent year-on-year to 53.2 billion yuan ($8.69 billion) in the first half. The turnover of the market is expected to more than double to 130 billion yuan by the end of 2013.
The surge of sales in smartphones and tablet computers as well as the growing use of third-generation mobile networks are the main factors driving the development of mobile shopping, said Mao Ajing, an e-commerce analyst with the Beijing-based research firm Analysys International.
"It is also a change of lifestyle. Those who stare at computers for eight hours a day often want to switch to other mobile devices after work," Mao said, adding that those who shop via mobile devices are usually those who have already made online purchases through personal computers.
"That is why mobile shoppers cannot be regarded as a new growth point for online retailers. They cannot bring additional revenue. Basically, mobile shopping and traditional online shopping complete each other," she said.
According to a report released by the China e-Business Research Center in mid-August, most people choose to shop via mobile devices between 8 and 10 am, as well as 6 and 8 pm, while they commute to and from work.
Mao from Analysys International said the limited time frame makes it "impossible" for mobile shopping to overtake traditional online shopping as the main powerhouse for the growth of China's online shopping market.
However, with more people switching from shopping via computers to shopping via mobile phones, traditional online retailers have been aggressively building up their mobile business, including releasing apps for smartphones.
Consulting firm iResearch Inc said that Taobao, JD.com and Tencent Inc were the top three in China's mobile shopping market in the second quarter of this year, with Taobao accounting for 76.2 percent of the total transactions.
It seems women in small cities in China had contributed the majority of Taobao's mobile shopping business. Statistics from Taobao showed that female users spend an average 21 minutes a day surfing on Taobao's mobile app, while male users spend an average 15 minutes a day.
Users in third- and fourth-tier cities, such as Tangshan in Hebei province and Datong in Shanxi province, spend more than 20 minutes on average accessing Taobao via mobile devices every day. Users in first-tier cities, such as Beijing and Shanghai, spent 18.5 minutes, said Taobao.
Mao Daiqing, analyst with the China e-Business Research Center, said that it is important to build Internet infrastructures in small cities in China. She said this is the main challenge for the future development of mobile shopping in China.