BEIJING -- China's producer price index (PPI) fell 2.3 percent year on year in July, indicating weak market demand amid a protracted economic slowdown, according to data unveiled Friday.
The PPI, which gauges prices of goods when leaving factory gates, has been in negative territory for 17 months, the National Bureau of Statistics (NBS) said.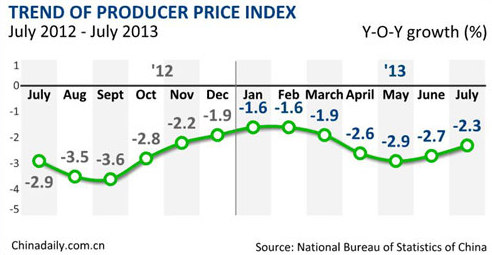 July's PPI was driven by a 6.0 percent fall in the prices of goods from the mining industry, a 3.2percent drop in the cost of industrial raw materials and a 2.6percent decline in the prices of products from the processing industry, the NBS said.
"Industrial overcapacity, rising costs and sluggish overseas demand contributed to the dropping PPI," said Liu Yuanchun, vice president of the School of Economics at Renmin University of China.
On a monthly basis, July's prices were 0.3 percent lower than in June.
Yu Qiumei, a senior statistician with the NBS, said July's PPI continued a downward trend but decreased at a slower pace for the first time since April.
July's monthly figure narrowed from June's 0.6percent decline, NBS figures show.
Yu said it is worth noting that most metal and chemical products saw prices go up in July, reinforcing the findings of the purchasing managers' index (PMI) for the manufacturing sector.
China's manufacturing PMI rose slightly to 50.3 percent in July from 50.1 percent in June, according to data released by the bureau in the beginning of the month.
"China's recent measures to stabilize growth, restructure the economy and promote reforms have started to take effect," said Yu.
Liu Yuanchun said the effect of economic stabilizing measures will be more obvious in the fourth quarter. China's economic growth may further slow in the third quarter and start to stabilize in the final three months of the year.
China's economic growth eased to 7.5 percent in the second quarter, down from 7.7 percent in the first quarter and 7.9 percent in the last three months of 2012.