Beijing-Tianjin-Hebei zone: Rise of new growth engine
Editor's Note: This month marks the third anniversary of the launch of China's ambitious national strategy to integrate and synergistically develop the Beijing-Tianjin-Hebei region in the north into a world-class city cluster. Initiated by President Xi Jinping, the plan envisages the region as the next economic growth engine, and is expected to transform the whole Bohai Bay area into a zone of prosperity in coming decades. The long-term project will likely turbocharge growth by enhancing effectiveness of cities in the region. It will also meld national capital Beijing and neighboring Tianjin and Hebei province into an agglomeration of infrastructure-strong urban centers, promising unprecedented economies of scale, according to the National Development and Reform Commission. To record and review the developing story, China Daily dispatched a team of reporters to the region. Their on-site interviews and in-depth reportage, which inform this special double-page spread, lift the curtain on the unfolding economic spectacle: industries in the region are getting upgraded and transformed; cities are becoming inter-connected and inter-dependent; the Tianjin Pilot Free Trade Zone is attracting quality foreign investment and facilitating local Chinese enterprises' overseas expansion; high-end research expertise is getting connected with local manufacturing abilities; and people's lives are improving all the time, thanks to the new economic activity related to the 2022 Winter Olympics, which will be held in the region.
Exports blossom at free trade port despite sluggish climate
By LIU WEIFENG and ZHANG MIN in Tianjin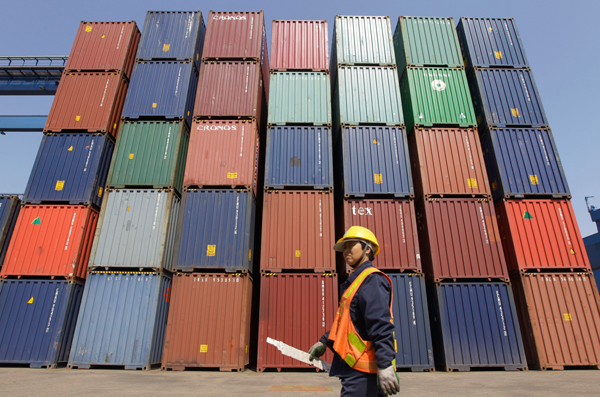 A worker walks past containers at Tianjin Port in northern China on May 13, 2010. [Photo / Agencies]
Open and innovative environment boosts investment and trade, benefits people
With the inflow of quality overseas capital and the registration of export-oriented Chinese enterprises, the Tianjin Dongjiang Free Trade Port Zone saw an export surge of 30 percent last year, in an atmosphere of sluggish trade and export globally.
Dongjiang is part of the China (Tianjin) Pilot Free Trade Zone. Last year, more than half of the registered enterprises in Dongjiang were from the Beijing-Tianjin-Hebei area, stimulated by the Beijing-Tianjin-Hebei synergetic development strategy.
The long-term integration not only does good to each of these three regions, but the unity brings benefits beyond imagination to the whole area, and even to the entire country, according to Yan Xuan, president of Nielsen Greater China.
"The inflow of qualified capital from home and abroad, is a testament to the attraction of an open, friendly and innovative business environment," said Zhou Mi, a senior research fellow at Chinese Academy of International Trade and Economic Cooperation, under the Ministry of Commerce.
In 2016, 588 foreign enterprises, with a combined registration capital of 178.8 billion yuan ($26 billion), settled in Dongjiang, seeing a year-on-year increase of 51 percent in the number of enterprises and 29 percent rise in capital.
Last year, there were 1,148 enterprises from the Beijing-Tianjin-Hebei area registered in Dongjiang, which brought in 112.1 billion yuan of capital.
"We're committed to providing expertise and 'butler' service to enterprises wishing to settle here," said Shen Lei, director of administrative committee of Tianjin Dongjiang Free Trade Port Zone.
The administrative committee focuses more on the supervision and risk control in operation while giving companies much easier access to register.
"It takes just one day for any type of enterprises to register," Shen said.
An export base designed to serve Chinese enterprises' overseas development has been set up in Dongjiang.
CCCC Marine Construction& Development Co Ltd, a subsidiary of the China Communications Construction Co Ltd, registed in Dongjiang, has set off from the port in Tianjin and is carrying out revamp and expansion project at the Hong Kong International Airport.
Thanks to free-trade benefits and a series of innovative measures piloted by the Tianjin free trade zone, financial leasing and parallel import car businesses have achieved robust growth. A parallel import is a non-counterfeit product imported from another country without the permission of the intellectual property owner.
Financial leasing is an innovative way to develop industrial development by using financial tools. The leasing asset amounted to $49.22 billion in Dongjiang by the end of last year, mainly in leasing aircraft, international shipping vessels and offshore platforms.
The Tianjin free trade zone imported some 53,000 parallel imported cars, worth $2.74 billion last year. It takes 80 percent of the country's total parallel imported cars.
According to Jiang Guangjian, deputy director of the China (Tianjin) Pilot Free Trade Zone, the outbound investment by enterprises from the zone reached $12 billion last year, accounting for half of Tianjin's total.
Some 890 more foreign enterprises registered in the free trade zone last year, with those registered in Dongjiang taking half share, up 30 percent year-on-year.
Of the total 2,000 enterprises, worth 250 billion yuan, registered in Dongjiang last year, the average registered capital for a single enterprise reached 120 million yuan.