British investors bet on China leading the way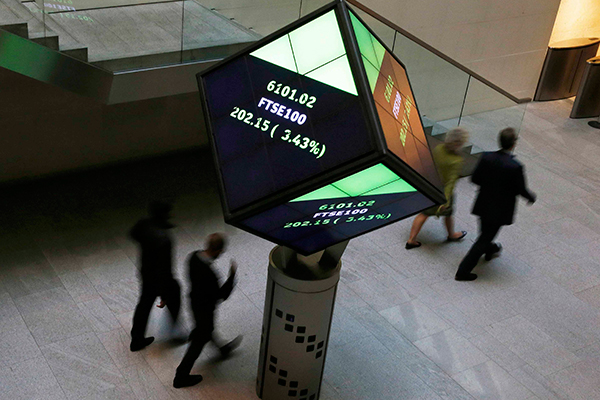 People walk through the lobby of the London Stock Exchange in London, UK, August 25, 2015. [Photo/Agencies]
UK investors believe Chinese equities will deliver the best returns in 2017 in comparison with seven other possible investment destinations, according to the results of a poll published on Monday.
The results suggest enthusiasm has not been dampened by a slowdown in China's economy, nor a fall in the value of the reminbi, according to the survey of 9,000 investors by London-based commentator Interactive Investor.
The survey found 27.7 percent of those polled believe China will do better than other major regions. Last year, a similar poll put the Chinese mainland in fifth place, with barely four percent of votes. China's rise as an investors' favorite comes as some economists warn that the world economy could be threatened by China's growing debt and slowing growth.
Europe is also expected to outperform many markets in 2017, coming second in the poll with 24.5 percent of votes cast. Investors' interest in Latin America and Japan has increased since last year's poll, with Latin American at 13.9 percent this year, in third.
Despite coming top last year, the UK slipped to fifth, followed by the US. The world's largest economy was second in the previous report.
Continued uncertainty in the UK, post-Brexit, and a fall in the value of the pound may have fuelled fears among investors that some financial services companies may move to mainland Europe.
With Wall Street performing very well and the dollar rising to a 14-year peak last week, UK investors are looking elsewhere for more attractive investments.
Rebecca O'Keeffe, head of investment at Interactive Investor, said: "With US stocks at record highs and the UK heading into the unknown, our investors appear to be shifting their gaze elsewhere.