Yum China KFC Health Foundation supports research and educational programs to contribute to Healthy China 2030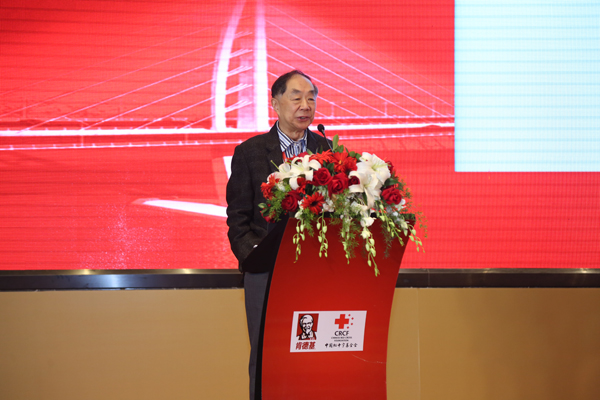 Chen Junshi, an academician at the Chinese Academy of Engineering and General Advisor to the China National Center for Food Safety Risk Assessment, delivers a keynote speech on Nov 29, 2016, in Zhuhai, South China's Guangdong province. [Photo provided to chinadaily.com.cn]
Yum China Holdings's KFC Health Foundation hosted its ninth annual conference Tuesday in Zhuhai, China. The conference was attended by senior representatives from Yum China and the China Red Cross Foundation (CRCF), as well as scientists, scholars and experts in nutrition and health services from around the country.
"Nutrition is fundamental to the well-being of Chinese people and we are pleased to support the Healthy China 2030 plan through a wide range of research and educational initiatives," said Micky Pant, CEO of Yum China. "Over the past decade, the Yum China KFC Health Foundation has supported extensive research into the development of nutrition and we are committed to improving understanding of balanced diets throughout China."
The Healthy China 2030 plan, recently released by the State Council, outlines the government's goal of increasing the average life expectancy of Chinese people to 79 years and achieving the same health outcomes as high-income countries by 2030.
Yum China partnered with the CRCF to establish the Yum China KFC Health Foundation in 2007. Since then, it has provided 15 million yuan ($2.2 million) to support over 50 science research and education programs to improve the eating habits of Chinese people.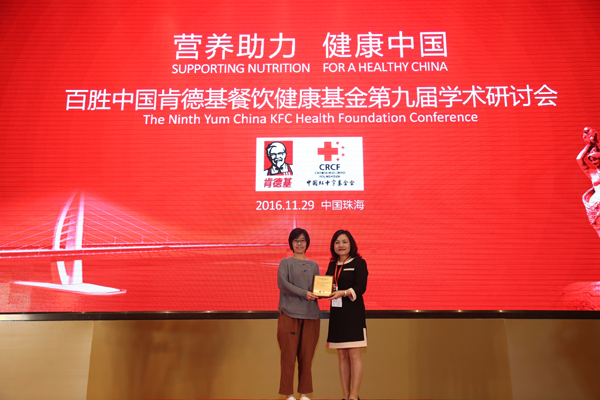 Alice Wang (right), public affairs vice president of Yum China, announces research projects sponsored by Yum China KFC Health Foundation on Nov 29, 2016 in Zhuhai, China. Since 2007, the Foundation has provided 15 million yuan to support over 50 science research and education programs to improve the eating habits of Chinese people. [Photo provided to chinadaily.com.cn]
Liu Xuanguo, vice general secretary of the CRCF, said, "Yum China has always placed food safety and the promotion of balanced diets as top priorities and central elements of its social commitment. The cooperation between the CRCF and Yum China is a fantastic example of the valuable intersection between philanthropy and business."
The conference featured keynote speeches by Chen Junshi, an academician at the Chinese Academy of Engineering and General Advisor to the China National Center for Food Safety Risk Assessment, Professor Guo Hongwei, general secretary of the Chinese Nutrition Society (CNS), and Professor Su Yixiang, director of the Maternal and Paediatric Nutrition Sub-committee of CNS. Chen explained the key elements of the Healthy China 2030 plan. Guo and Su outlined China's national nutrition policies and shared their analysis of the National Health and Family Planning Commission's revised Dietary Guidelines for Chinese Residents 2016.
"During the three decades that we have been in China, we have always been committed to improving the lives and nutrition of people across the country," said Alice Wang, vice president of public affairs for Yum China. "We are focused on continuously improving the nutritional profile of our high quality products, while providing our customers with great tasting food and a variety of menu options."
Yum China's restaurants across the country actively participate in public health and nutrition campaigns to expand understanding of nutrition. Since 2008, KFC's One Yuan Donation program, which was founded in partnership with the China Foundation for Poverty Alleviation, has raised over 130 million yuan ($18.8 million) and provided more than 29 million nutritious meals to 145,000 impoverished children across China.
In addition, during the China National Nutrition Week in May 2016, KFC restaurants provided over 30 million customers with tray mats to promote nutritional knowledge and share information about the content of a balanced diet for Chinese people.