German firms hopeful on Made in China 2025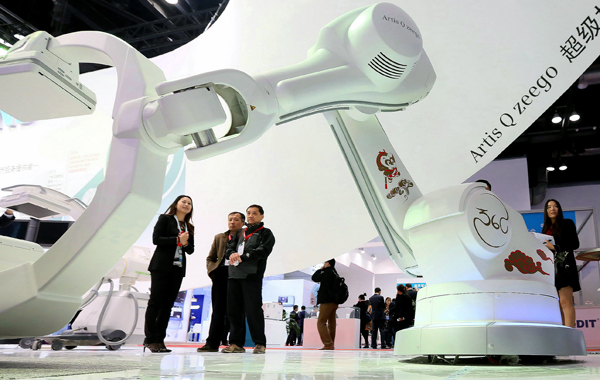 Siemens AG displays its latest medical equipment at an international exposition in Beijing. [Photo/Xinhua]
German companies in China believe the Made in China 2025 strategy will generate benefits for their operations in the country over the next five years, the German Chamber of Commerce in China said on Tuesday.
More than half of German companies consider this strategy will create positive effects, even though many of them evaluate their growth in turnover and profit more cautiously than before in the 2016 fiscal year, according to the Business Confidence Survey 2016, conducted by the chamber between Sept 1 and Sept 28.
The Made in China 2025 strategy is a 10-year national plan designed to transform China from a manufacturing giant into a global high-tech manufacturing power.
The survey interviewed 426 companies on issues related to business outlook, investment climate and market conditions.
Lothar Herrmann, chairman of the German Chamber of Commerce-North China, said the overall outlook for the coming year is more positive, reflecting the belief of German companies in the Chinese market and its recovery.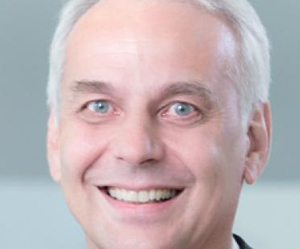 Lothar Herrmann, chairman of German Chamber of Commerce - North China [Photo provided to China Daily]
"Many Germany companies, especially from the machinery, chemicals, automotive and pharmaceutical sectors, have already shifted their focus to the automation and digitalization growth areas, as well as forming partnerships with local companies to retain stable growth," he said.
The survey said German companies with plants in China were asked about the status and potential of the German government's Industry 4.0 strategy for their local operations in China. Eighty-three percent see the suitability of implementing Industry 4.0 within their own production processes as a given.
Fourteen percent already point to the intensive or partial use of technologies related to Industry 4.0. One in two companies is implementing or planning for it. The automotive industry is furthest ahead in development toward Industry 4.0.
Founded in 1999, the chamber has more than 2,500 members throughout China.
After strong performance in 2014, companies found rising labor costs and shortage of qualified workers remain the main challenges for the majority of German companies in China.
Alexandra Voss, the chamber's executive director for the North China region, said with three years of development, the Belt and Road Initiative had proved to be a practical method driving the growth of both German and Chinese companies in a broader market place.
The initiative has brought new opportunities in overseas projects for Chinese companies. Chinese companies signed about 4,000 contracts for engineering, procurement and construction projects in 60 countries and regions along the route of the initiative in 2015, while the total contract value reached $93 billion, according to data from the Ministry of Commerce.
"The Yangtze River Delta region, Shanghai, Chongqing and Chengdu with strong consumption power, demand for industrial upgrading and infrastructure, will continue to remain attractive to German companies from long-term perspective," Voss said.