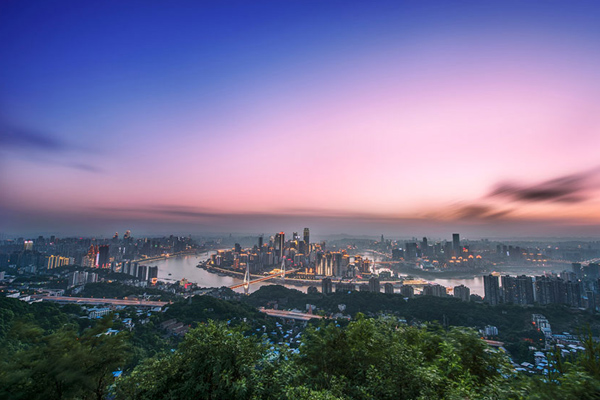 Night view of Chongqing. [Photo by Jiang Nan/chinadaily.com.cn]
As the latest addition to China's Free Trade Zone project, Chongqing will focus on policy innovation to become a pivot in the country's go-west campaign, according to its FTZ development blueprint.
China's Commerce Minister Gao Hucheng announced on Aug 31 the third batch of FTZs, including Chongqing, Henan, Hubei, Liaoning, Shaanxi, Sichuan and Zhejiang.
The total number of FTZs has reached 11, just three years after the Shanghai FTZ opened for business.
As the only municipality in west China under the direct leadership of the central government, Chongqing is located at the intersection of the Belt and Road Initiative's trade route and the Yangtze River Economic Zone.
It is also the operational center of China-Singapore (Chongqing) Demonstration Initiative on Strategic Connectivity, the third intergovernmental project between the two countries. It will foster cooperation in fields ranging from financial services, aviation, transportation and logistics to information and communications technology.
Therefore, the central government requires the city's FTZ to play a vital role in the opening up and development of inland China.
According to a previous proposal, Chongqing FTZ, with a coverage of 120 square kilometers, comprises three parts-Liangjiang New Area, Chongqing Logistics City and Chongqing Microelectronics Park.
Liangjing New Area, established in 2010, is the third national development and opening zone in China-and the first in the inland-approved by the State Council, after Shanghai Pudong New Area and Tianjin Binhai New Area.
"We should combine the Sino-Singapore program with the FTZ project so that we can achieve the real free flow in trade, human resources and commodities," said Tang Zongwei, deputy director of the Liangjiang New Area Administrative Committee.
According to its FTZ blueprint, Chongqing will build itself into a pilot zone of inland free trade with convenient investment and trade environment, efficient supervision and complete finance services.