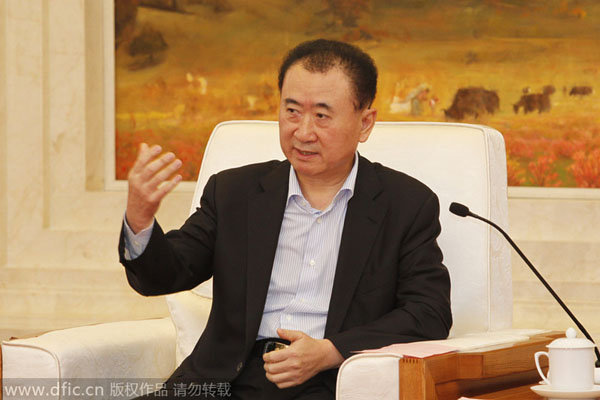 Wang Jianlin, Chairman of Dalian Wanda Group, speaks during a meeting in Kunming city, Southwest China's Yunnan province, Oct 29, 2014. [Photo/IC]
There are now around 89,000 Chinese individuals worth more than 100 million yuan ($14.77 million), said China Ping An Insurance Group.
During the ongoing Ping An Family Wealth Management Summit held in Sanya, the company's sales department manager Yang Jingdong pointed out that 60 percent of the China's multi-millionaires have assets overseas.
Due to reasons such as limited allocations to overseas shares and unfamiliar foreign markets, most of these individuals only invest some 10 percent of their total gross assets into properties outside of China.
Based on analysis, the features of their investment can be characterized as a focus on saving and investing relatively little. Their investment categories are highly concentrated, along with a high proportion of non-financial assets, said Yang Jingdong.
According to the latest figures released by Hurun Wealth Report, the year-on-year growth rate of the Chinese mainland's individuals with a net worth over 100 million yuan or more reached 14 percent in May 2016.
In terms of the regional distribution, China's eastern part enjoys the largest number of Chinese multi-millionaires, accounting for 43 percent of this population. It's followed by the northern and southern parts of China, with 23 percent and 15 percent respectively.
At the provincial level, Guangdong province replaced China's capital city, Beijing, in 2016 and attracted the majority of individuals with at least 10 million yuan in assets. Guangdong claimed the fastest rate of increase at 18 percent.
The roundup of the top 4 is Beijing, Shanghai and Zhejiang province. It's noted that 843,000 individuals worth at least 10 million yuan live in these four regions, or 63 percent of their population.
The Hurun report further indicates that entrepreneurs, gold-collar workers, real estate speculators, and professional stockholders compose this population of multi-millionaires, occupying 55 percent, 20 percent, 15 percent and 10 percent separately.
For the financing method, most multi-millionaire's families are in favor of bank savings or pour their money into real estates and insurances.
The Boston Consulting Group predicts, by the end of 2010, there will be 3.8 million households in China with available financial assets soaring to 10-thousand billion yuan.