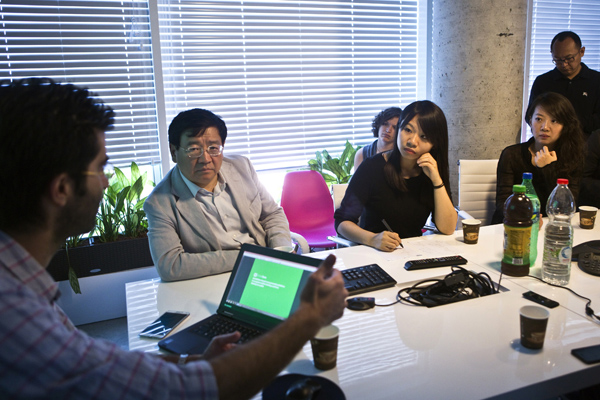 Members of a Chinese business delegation attend a presentation by Israeli high-tech firm iron-Source's CEO Tomer Bar Zeev (L) at the company's office in Tel Aviv in this file photo. [Photo/Reuters]
As Chinese investors flock to Israel in search of new technologies, top universities there are forging cooperation agreements with their Chinese counterparts and firms for R&D as well as technology transfer services.
For instance, Haifa University, known for its science research, is working on a joint research laboratory with East China Normal University. The lab, funded by the Chinese government, will focus on big data, neural biology and other medical areas.
Amos Shapira, president of Haifa university, said the proposed research center would help bring more Israeli technologies to China and push the envelope of technology by partnering with leading Chinese scientists.
The move came shortly after a similar initiative in April between Ben Gurion University, a force in computer science education, and Jilin University in northeastern China.
Tsinghua University in China and Tel Aviv University launched a $300-million research center way back in 2014, prioritizing partnership in nanotechnology, particularly with medical and optics applications.
"The close cooperation between the two countries' universities is partly spurred by Chinese government officials and investors. They realize that setting up joint research centers in China is a more efficient way to tap into Israel's technology than simply investing in Israel," said Shen Meng, director of Chanson & Co, a boutique investment bank in China.
Top Israeli universities are also interested in deeper ties because they want to achieve wider applications of their technologies in a big market and access more funds for their research.
A conference to this effect was held on Tuesday in Hangzhou, capital of Zhejiang province and home to several thousand small and mid-sized private enterprises. Representatives of four Israeli universities including Haifa and Tel Aviv participated in the conference.
Up for grabs were more than 1,000 technologies in search of partners. Areas covered were medical science, agriculture, new material, computer science and other tech niches.
Zong Qinghou, founder of China's largest beverage company Hangzhou Wahaha Group, who helped organize the conference, said Israeli universities' pioneering research has yielded cutting-edge technologies that Chinese entrepreneurs could harness.
Wahaha is already cooperating with Israeli universities in sensors, bio-engineering, and mechanical and electrical engineering research.
Benjamin Soffer, CEO of T3, the technology transfer unit of premier Israeli university Technion, said it regularly files applications in China to patent technologies invented by Technion's professors. This is to prepare for possible applications in the world's second largest economy. In the past, Technion would file for patents only in Western countries.
Last year, it launched a technology institute in China by partnering with Shantou University in southern China. The institute will train its students in water protection, biotechnology and other sectors. It has received $130 million in financial backing from Hong Kong-based tycoon Li Ka-shing.