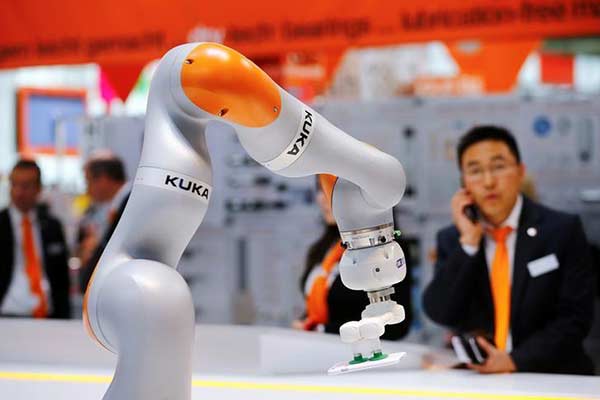 A robot arm of German industrial robot maker Kuka is pictured at the company's stand during the Hannover Fair in Hanover, Germany, April 25, 2016.[Photo/Agencies]
China's demand for European-made industrial robots is growing rapidly, as labor shortages, rising wages and culture changes push more Chinese businesses to automation, the Wall Street Journal reports.
According to the United Nations, the number of the country's workers aged 15 to 59 exceeded 900 million in 2010 and will fall below 800 million by 2050.
In addition, the average hourly labor cost of in China's coastal manufacturing region has more than doubled to $14.60 in 2015, accounting for 64 percent of American manufacturing wages, up from 30 percent in 2000, according to Boston Consulting Group, making the country less competitive as a destination for manufacturers.
The types of robots favored by Chinese manufacturers are also changing, the Journal said.
Automation spreads from heavy industries such as auto manufacturing to those that require more precise, flexible robots capable of handling and assembling smaller products, including consumer electronics and apparel.
In 2013, China surpassed Western Europe, becoming the world's largest industrial robotic market, according to the International Federation of Robotics (IFR).
However, the world's second-largest economy has lower robot penetration than other big industrialized economies - just 36 per 10,000 manufacturing workers in 2015, ranking it 28th among the world's most automated nations, the IFR said.
So far, the Chinese market is still dominated by foreign robot makers like ABB, Kuka and Yaskawa, but domestic robot makers are making inroads and increased their market share.
Earlier, Chinese home appliances maker Midea has just bought Germany's Kuka in a $5 billion takeover bid, and now owns 95 percent of the robots company.
Last year, Chinese manufacturers bought roughly 67,000 robots, accounting for a quarter of total sales worldwide. The demand is expected to more than double to 150,000 by 2018, the IFR said.
Agencies contributed to this story.