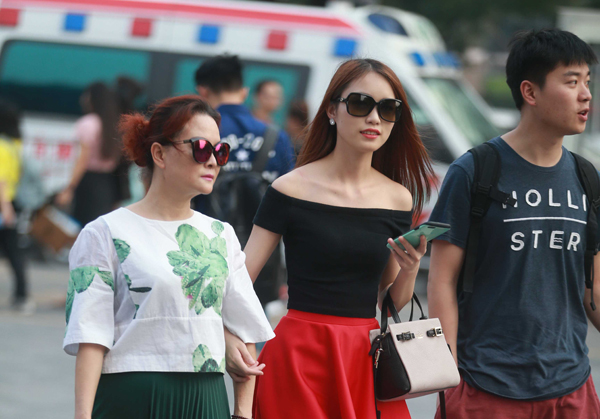 Two women wearing trendy sunglasses enter the bustling shopping district of Sanlitun, Beijing, last week. CHEN XIAOGEN/CHINA DAILY
For 25-year-old barista Xu Xinyue, choosing a pair of sunglasses from her collection for a holiday in Thailand is a tricky task. She has more than 120 pairs to choose from!
It took her some time to finally pick three. "You can take along just one pair. But you need one pair for proper protection against bright sunlight, and at least another two to match your clothes, if you want to take nice pictures."
For Xu and many of her ilk, sunglasses are no longer just summer-time protection for eyes. They are toys, gifts, souvenirs and, yes, masks, especially if you don't want to be recognized or discovered when staring at a handsome hunk, said Xu.
For sunglass retailers, China has been a boom-boom market in the past decade. Insiders are chuffed that Chinese consumers now recognize sunglasses have more uses than just as eyewear.
Zhang Yufen, 43, sales manager at Shanghai-based Hong Xing Eyewear, said when she started as a shop assistant 20 years ago, sunglasses were aspirational products, alongside handbags, watches and jewelry. At that time, sunglasses were not really affordable for many as only luxury brands were retailed, with outlets displaying them in locked glass cases.
"Now people realize sunglasses are essential for many occasions. People travel more frequently during summer, go skiing, do a variety of activities. They need more sunglasses for protection. More suppliers means sunglasses are more affordable now than before, and sunglasses have also become a fashion statement, in terms of shape, color and design," said Zhang.
Currently, more than 700 sunglass brands sell in China, according to the China Optometric and Optical Association. Most are eyewear-only brands, but there are some apparel and fashion makers that offer eyewear in multiple designs as affordable brand extensions that target younger consumers.
"We aren't just selling eyewear, we're selling accessories, something fun, memorable, and emotional," said Susan Chen, president of Swatch Group China.
Market experts said sunglasses represent just one of the highly profitable categories in eyewear. Optical glasses for sight-correction form another segment. But sunglass buyers are more likely to be influenced by TV commercials and celebrity endorsements.
A research note from Wanhe Securities said sunglasses are more like fashion items, and consumers would believe they need more than one pair, that they need more models or designs every year to be "in", not out of, fashion.