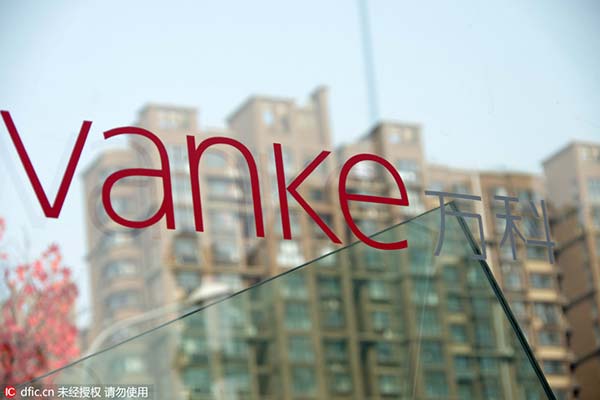 An apartment building is reflected on glass at a sales center of a residential property project in Jinan city, East China's Shandong province, February 10, 2016. [Photo/IC]
New twist to changing ownership battle for property giant follows regulatory disclosure
Shenzhen-listed shares in China Vanke Co Ltd, the biggest property company by sales, rose by the daily limit on Tuesday for three days straight and closed at 27.57 yuan ($4.16), following a regulatory disclosure on a stake increase by China Evergrande Group.
Evergrande announced on Monday evening that from Aug 8 to Monday, it further acquired a total of 235,792,663 Vanke A shares, through its subsidiaries, for 5.46 billion yuan.
The shareholding increase came nearly two weeks after Evergrande bought 4.68 percent of Vanke for 9.1 billion yuan, citing the latter's "strong results" as a reason for the investment.
Together with that previous acquisition, Evergrande held a total of 752,663,291 Vanke A shares as of Monday, representing about 6.82 percent of the total shares of Vanke.
It means Evergrande has replaced Anbang Insurance Group Co Ltd as the third-biggest shareholder of Vanke, following financial firm Baoneng Group and State-owned China Resources (Holdings) Co Ltd.
Considering that Evergrande has spent 14.57 billion yuan on purchasing Vanke shares, the average cost is roughly 19.36 yuan per share, said Shanxi Securities Co Ltd in a research note on Tuesday.
After the latest share price rise, the floating profit of the investment is estimated at about 42 percent.
JPMorgan Chase & Co analysts wrote in a report earlier this month that Evergrande, which has a track record of hostile takeover attempts, hoped to exercise influence on Vanke amid a battle for control of China's largest homebuilder.
During the past several months, Vanke has been busy fending off a potential bid from its biggest investor Baoneng.
Evergrande's stake acquisition in Vanke triggered a 0.68 percent rise of its Hong Kong shares, which closed at HK$5.91 (76 cents) on Tuesday.
The move also boosted the share prices of the companies whose interest is closely tied to the group, including trading company Langfang Development Co Ltd, in which Evergrande increased its holdings to 15 percent in August, and China Calxon Group Co Ltd, in which Evergrande took a controlling stake.
According to the latest statistics from the CRIC Information Group, insurance companies have acquired interests in 54 A-share listed companies whose returns on equity are high.
Dai Pengju, an analyst of Sealand Securities Co Ltd, in a report earlier this month gave the reason for the trend.