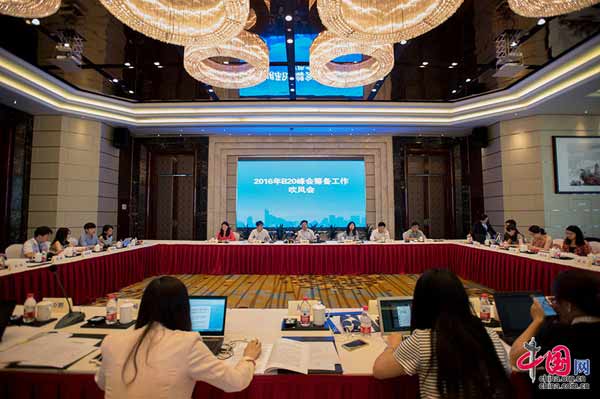 A briefing meeting is held for Business 20 Summit 2016 in Hangzhou, East China's Zhejiang province, on Aug 2, 2016. [Photo/ china.com.cn]
The final draft of policy recommendations for this year's Business 20 summit has been completed.
The B20 summit will take place in Hangzhou just ahead of the G20 Leader's summit in September.
The draft will now be submitted to the G20 leaders for review.
Chinese President Xi Jinping is due to address the opening ceremony of the B20.
Yu Jianlong, head of the B20 host committee, says the draft report covers a range of topics specifically targeting the Chinese and international business communities.
"The report proposes 20 different policy suggestions. In general, the report not only addresses the general concerns from the international business community, but also outlines the Chinese business community's approach toward guiding the discussions on each topic, as well as plans for engagement in global economic policy-making. It has a big Chinese footprint."
Discussions at this year's B20 summit will cover six main topics in areas such as finance, trade and investment, infrastructure and the development of small and medium sized businesses.
The B20 is a platform for the global business community and economic regulators to make policy suggestions to the G20.
This year's B20 summit will take place on September 3rd in Hangzhou.