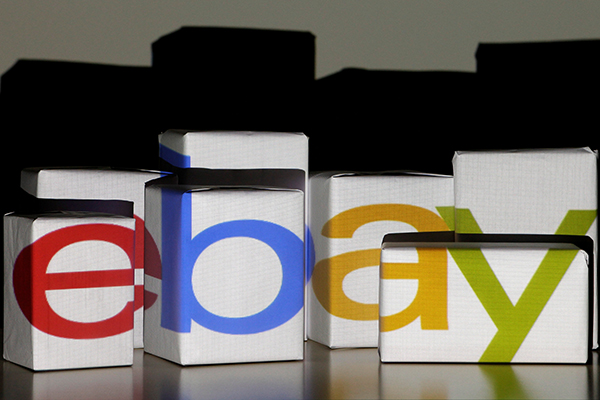 An eBay logo is projected onto white boxes in this illustration picture taken in Warsaw, January 21, 2014. [Photo/Agencies]
Overseas consumers who buy made-in-China products online will soon see the parcel delivery time reduced by two-thirds to three to five days, as a local insurance company partnered with eBay Inc to help speed up the development of cross-border e-commerce.
Currently, it takes eight to 15 days before foreign buyers to get what they want after placing an order online, and consumers only have limited options online, mostly light-weight items, to keep logistics costs under control.
But now China Export & Credit Insurance Corp, a major Chinese insurance firm, also known as SINOSURE, aims to change all that by partnering with eBay and three trade service firms in Tianjin.
SINOSURE's Tianjin branch will offer credit insurance to Chinese sellers on eBay, to help them build overseas warehouses so they can offer foreign consumers a better shopping experience.
"Building warehouses in foreign countries will enable Chinese firms to sell overseas buyers items that are impossible to be transported currently, such as auto parts, furniture and gardening," said Lin Yizhang, CEO of eBay Greater China.
"It will also help Chinese products reach more countries in far shorter time," he added.
"In the future, buying overseas products online will be as fast and convenient as shopping at nearby stores."
Three trade service companies in Tianjin will also help eBay sellers in logistics, fundraising, tax refunds and other areas.
Wang Xiaowei, president of Power in Cloud (Tianjin) E-commerce Co Ltd, a Tianjin-based manufacturer of bicycles, said it was expensive to build warehouses in foreign countries.
"It costs about $6 per square meter to rent warehouses in the United States. The letter of guarantee from SINOSURE, a big State-owned firm, helped us apply for loans from banks," Wang said.
Wang's firm was selected as a test case to receive the new services from SINOSURE in 2014. Since then, the company has set up warehouses in the US, the United Kingdom and Belgium, with a total area of nearly 50,000 sq m.
"Currently, American consumers who buy our bicycles on eBay can receive their orders in three to five days," he said, adding the company saw tenfold increase in cross-border online transactions in 2015.
Wei Shaomin, general manager of SINOSURE's Tianjin branch, said Chinese small and medium-sized enterprises will greatly benefit from the partnership.
Taking tax refunds as an example, trade service firms can now help shorten the whole process to two to three days which would otherwise take six months.
"The deal with eBay and local trade service firms will help generate $1 billion in extra exports of goods in Tianjin," Wei said.