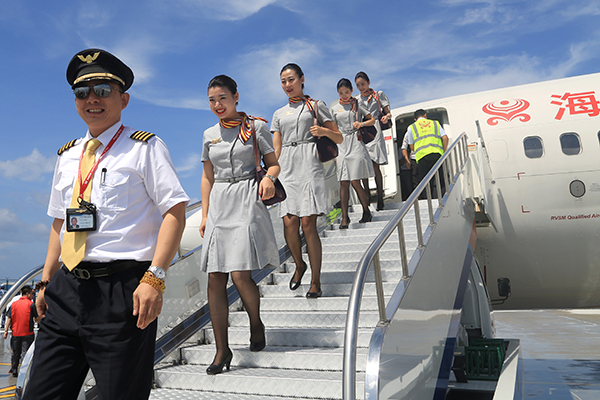 HNA Group aircrew leave a plane after it landed in Zhubi Reef, Hainan province. [Photo/VCG]
HNA Group, China's fourth-biggest airline, announced on Wednesday it had secured acceptances for 96.1 percent of the shares in its bid for Gategroup Holding AG, the Switzerland-based in-flight catering provider.
Gategroup said in a statement that payment for the shares was expected to be made towards the end of the third quarter or beginning of the fourth quarter.
After the settlement of the offer, HNA intends to submit an application for the delisting of the Gategroup shares and for an exemption from certain disclosure and publicity obligations in accordance with the listing rules of SIX Swiss Exchange, the principal stock exchange in Switzerland.
Zurich-headquartered Gategroup is an independent provider of products, services and solutions relating to passenger's onboard service. It specializes in catering and hospitality, provisioning and logistics, onboard products and services to companies that serve people on the move.
The Swiss company posted $3.2 billion of revenue in 2015. With more than 28,000 employees, it has 160 service points in 33 countries and regions.
Tan Xiangdong, vice-chairman of HNA Group, said the acquisition of Gategroup not only added to his company's investment portfolio in airline catering, but also complemented HNA's existing activities including aviation, airport management, logistics and tourism.
The Chinese company said it would now make moves to acquire the stakes held by minority shareholders.
Xavier Rossinyol, chief executive officer of Gategroup, said the transaction would allow it to develop. He said it would allow it to flourish as it accelerated its "Gateway 2020" strategy and further expand its global reach with HNA's presence in the fast-growing Asian market.
Under the deal, Gategroup will continue to operate as an independently-managed company under HNA's business guidance.
"HNA Group has operated a number of catering companies for many years and it has accumulated mature management experience and market resources in the in-flight catering industry," said Li Xiaojin, a professor at the Civil Aviation University.
"It (the acquisition) will also bring benefits to Gategroup, which would like to be involved more in the Asian market," he added.
The latest acquisition comes in the wake of a string of takeovers by the Chinese airline in recent years.
"The group will be able to provide catering services to more world locations after this deal is completed," Li said.