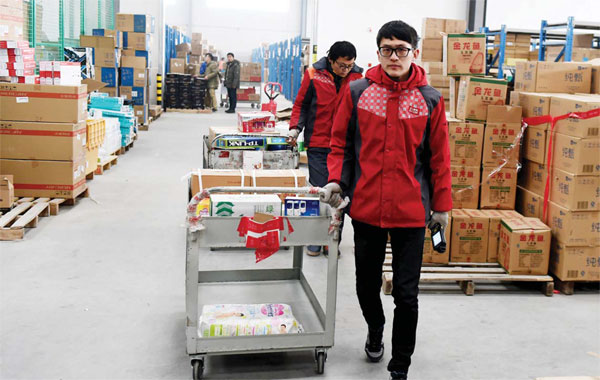 One of JD.com's logistics centers, in Zhengzhou, Henan province. The e-commerce company has set up an overseas purchasing arm, JD Worldwide, to buy products it identifies as being in high demand among Chinese customers. These are then warehoused in China to be quickly shipped to buyers. Provided to China Daily
China's booming cross-border ecommerce space is creating an exciting new market for logistics providers to compete fiercely with each other to transport goods from foreign retailers to Chinese consumers.
The scale and novelty of this logistics market is indicating fat profit margins, which pushes logistics providers to constantly innovate their services, invest heavily into warehousing capacities and develop advanced IT systems to improve the speed and reliability of delivery while reducing costs.
This trend came about thanks to measures by the government in 2014 to incentivize cross-border e-commerce. In 2014, China's cross-border imports were worth 100 billion yuan, growing to 150 billion yuan the following year and a forecast 210 billion yuan in 2016, according to estimates from Chinese intelligence firm Iresearch.
Even more significant is the growth potential. The global cross-border e-commerce market stood at $230 billion in 2014, and is projected to grow to $1 trillion in 2020, according to joint research by Accenture and AliResearch, Alibaba Group's research arm.
"Cross board ecommerce logistics service is definitely a very important opportunity," says Song Xujun, consulting director at Deloitte in China.
"First, there is a lot more room to grow logistics products and services in the cross-border space compared with China's well establishment domestic logistics market. Secondly, in the cross board scenario, logistics play a more important role in the e-commerce supply chain and logistics companies have more bargain power with ecommerce platforms," Song says.
The advantages will go to those who cut costs throughout the supply chain, which will mean logistics providers innovating and improving efficiency. That is particularly so since higher cross-border e-commerce retail taxes were introduced in April this year, increasing sellers' costs.
Growing economies of scale are seen as the key driver to keeping costs low by companies such as the Hangzhou-based Dolphin Supply Chain, which has seized the opportunities that have arisen since it was founded in 2003. Its current monthly revenue is around 150 million yuan.
The company has established a streamlined logistics service, building warehouses at home and abroad, connecting them via its own contract fleet of cargo planes and trucks, and launching a real-time IT monitoring system.
This is how it works: Dolphin's contract truck drivers collect goods from retailers and deposit them at Dolphin's overseas warehouses from which they are flown to warehouses in China. The last miles to the customer's door are completed by local partners.
Dolphin's IT system monitors product collection times to ensure purchases are delivered to its overseas warehouses within hours. Around one additional day is required to fly the goods to China. With a further day needed to reach the customer, total delivery time can in theory be as quick as three days.
David Lee, CEO of Dolphin Supply Chain, says: "We have invested heavily into creating our own eco-system of logistics infrastructure serving the cross-border leg of the delivery process, as it is a market that started from scratch. Our own contract fleet of truck drivers and cargo planes enable us to have complete control of the timing of delivery, and to monitor and ensure products are kept in their optimal conditions."
Dolphin has warehouses in the U.S., Japan, Hong Kong, Australia, the UK, Germany and Poland. These locations are strategically chosen to be close to food suppliers, the firm's focus industry. "Nowadays, as demand significantly outstrips supply, we send all our items by plane to get them to customers as soon as possible," says Lee.
Hangzhou-based Beibei.com, one of China's largest e-commerce suppliers of baby products, has also built overseas warehouses in Asia and Europe, and in the Chinese cities of Hangzhou, Ningbo, Guangzhou and Tianjin.
Ke Zunyao, its chief operating officer, says the investment in warehouses is to ensure fast delivery and quality control. With products pre-stored in its Chinese warehouses, the company can dispatch them on the same day if orders are made before 4pm.
Beibei has quality control policy, with goods checked three times between entering and leaving its warehouses and food products are packaged according to strict guidelines. That could not be guaranteed if logistics were handled by third party service providers, hence the firm's insistence on maintaining maximum control.
China's two largest e-commerce platforms by volume are Alibaba and JD.com, which each have invested in a logistic strategy. Alibaba has built its own logistics network, Cainiao, which links Alibaba with a consortium of logistics providers, including 49 cross-border delivery partners including 4PX, Royal Mail and SingPost. According to Alibaba's estimates, these delivery partners together own 74 cross-border warehouses globally that can support the delivery of 4 million packages per day, covering 224 countries and regions globally.
JD.com has meanwhile set up an overseas purchasing arm, JD Worldwide, to purchase products it identifies as being in high demand among Chinese customers. These are then warehoused in China to be shipped to buyers quickly and reliably.
"The advantage of such a business model is the e-commerce platform's ability to control its products and services, including product availability, dispatch time and delivery method, rather than merely acting as a market place, where they would rely on retailers to post the products themselves," says Song.
The e-commerce import boom has also benefitted the air cargo operators. International Airlines Group's cargo division saw 40 percent growth in the amount of goodsit handled in 2015, mainly driven by large volumes of high-end fashion items shipped from the U.K.
Daniel Johnson, global products manager at IAG Cargo, the volume of goods flown to Shanghai, mainly from Milan, Frankfurt and Madrid, more than doubled compared with 2014.
Before 2014, getting foreign goods to China was expensive and complex. It relied on postal service providers or express parcel delivery firms such as DHL and UPS, which have set up their own service points in China.
Mail can be relatively cheap but also slow. Express delivery firms are quicker but also more expensive.A new breed of operators – parcel forwarding firms – has emerged in recent years to address that problem.
Big names such as 4PX Worldwide Express and XLobo, logistics arm of the Chinese e-commerce platform Ymatou, collect and bundle individual parcels at overseas locations and ship them to China as a single consignment. Although they still rely on postal and express delivery services, their profits come from the economy of scale in handling high volumes.
The 2014 e-commerce reforms included setting up bonded warehouses in seven pilot locations. Products can be transported to these warehouses in bulk and clear customs only when they are dispatched to customers. Goods imported this way also attract a tax advantage.
The benefits of the system encouraged logistics firms and e-commerce platforms to set up their own bounded warehouses within the designated zones.
Jim Tompkins, CEO of the US-based Tompkins International Supply Chain Consulting, says another popular strategy is to establish a hub in the country of origin where individual orders can be packed in a single container for shipment to China. "It avoids the need to hold inventory overseas where it may have a risk of not being sold," he says.
New investments by logistics firms and e-commerce platforms are now squeezing the market share of firms that do not have their own logistics infrastructure."The market is experiencing a process of consolidation, and the parcel forwarding companies may in future find it hard to keep their market share," says Deloitte's Song.
Fox Chu, managing director of Accenture's freight and logistics operation, says a key trend is the growth of 'one-stop-shop' approach, whereby a service provider not only handles end-to-end logistics on behalf of retailers, but also helps them with digital marketing and financial and other services.
Chu says such flexible service providers go "beyond being merely a logistics service provider, they position themselves as an e-commerce trade expert".
One such firm is London based Avenue 51, an e-commerce consulting firm with its roots in logistics. It has developed an IT system that helps British retailers find the best delivery route to Chinese customers by using a product's size, weight, price and type, and matching these with other factors such as volume and time requirements. The system might propose a point-to-point postal route or specialist logistics delivery depending on the input.
The company's own logistics capacity currently handles between 25-30 tons of products delivered from the U.K. to China each day, rising to 45 tons in peak periods. Customers include the upmarket British supermarket Waitrose and heritage accessories' brand Cambridge Satchels. In addition, Avenue 51 provides a wide range of consultancy advices to British retailers, helping them to grow in China's e-commerce space.
Eric Wang, co-founder of Avenue 51, says his company places a big emphasis on working directly with brands. "We could have chosen an easier route to build up logistics volumes by becoming the suppliers of logistics agents who have many clients already, but our strategy is to become the only intermediary between the brands and the customers to ensure reliable and sustainable services in the long term."
Wang adds that April's new cross-border ecommerce tax changes effectively place more demand for logistics providers to understand the best logistics route to suggest to customers, because of the complex tax bands applied to various products. Some products would save costs under the cross-border ecommerce route, whilst others the traditional postal route.
"We've invested heavily into our IT system for customers to receive suggestions on the best logistics options, and we have trained our employees to help them understand their choices, so they can make informed decisions," says Wang.
The rapidly growing inbound e-commerce market is likely to see fierce competition and further consolidation. For now, it is much more fragmented than the e-commerce export trade from China. Deloitte's Song estimates that the largest 10 logistics providers have only a 10 percent share of the inbound market, compared with the mature outbound e-commerce landscape in which the top five players enjoy an aggregate 60-70 percent share.
In addition, the logistics costs of China-bound e-commerce are three to four times as high as equivalent costs in Europe, according to estimates by Alan Braithwaite, Chairman of the UK-based LCP Consulting Ltd.
Success will depend in part on companies having efficient and cost- effective domestic delivery partnerships. Parcel delivery within China is a complex process that relies on providers building a solid network and infrastructure, says Sarna Yeung, a partner at the Munich-based consultancy Roland Berger.
"Distributing products to individual customers in China is complex. It could involve distributing perhaps one or two parcels to a particular city, and then quickly and accurately deliver them to the individual customers within a short delivery window," says Yeung.
"This is especially important as we foresee ecommerce consumption will significantly catch up in the lower tier cities in the future; and consumers are expecting delivery within a very short delivery lead time, from 1-2 days to even same day delivery for cross border e-commerce," says Yeung.