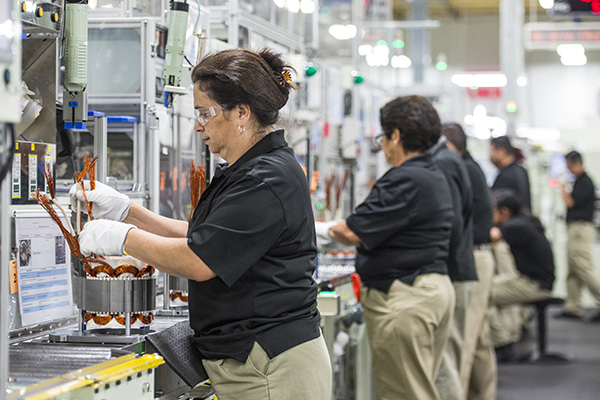 Employees build components for hybrid vehicles at the Toshiba International Corp manufacturing facility in Houston, Texas.[Photo/Agencies]
Japanese firm sees great potential in China's growing nuclear power and robotics sectors
Toshiba Corp plans to write down its personal computer investment in China after the spinoff of its home-appliance division, as it aims to focus on more lucrative sectors, such as nuclear power and robotics.
"Our PC business is not doing well, and it seems to be on a downward trend, so we are trying to narrow the business and focus on other sectors with high potential," Shiro Saito, corporate senior vice-president of the Tokyo-based company, told China Daily in Tianjin.
Toshiba is cutting its PC workforce by about 900 people and its sales bases by more than half globally, and may sell its Hangzhou production base in China due to slumping business, according to earlier reports.
But Saito denied that the firm was pulling out of PC production in China. "It's true that we are cutting costs, but we are keeping the PC factory in Hangzhou," he said on the sidelines of the Tianjin Summer Davos, a three-day economic forum that ended on Tuesday.
The Japanese high-tech and energy giant is in talks with another two Japanese companies, Fujitsu Ltd and VAIO Corp, to merge their PC businesses.
As China is on track to build nuclear power plants and hydropower projects to optimize its energy mix and leverage domestic experience for export, Saito, who is also general manager of Toshiba's technology division, said it will invest more in the power generation sector.
In 2006, Toshiba acquired US-based Westinghouse Electric Co, which developed the third-generation AP1000 nuclear technology. However, Japan's nuclear industry has experienced sluggish growth since the Fukushima nuclear disaster in 2011.
Flagship AP1000 nuclear power plants are now under construction in Shandong and Zhejiang provinces.
Toshiba is also eyeing China's robotics market, an industry with massive potential, as the country aims to triple its annual production of robots used in the manufacturing sector to 100,000 within five years.
The Japanese company is developing chat-robots that are intelligent enough to answer questions over the phone, and plans to use the technologies in China's banking system.
Luo Jun, CEO of the Asian Manufacturing Association, said robotics can be used in many sectors such as healthcare and education, and even in banking, as labor costs rise in China.
"China is pushing for a shift from traditional production to industrial automation, so the market potential is just enormous," he said.
Semiconductors account for 40 percent of the Japanese company's total revenue, followed by elevators, air conditioners, lighting and power generation and technology.
Toshiba is also setting up a research and development center for air-condition control systems in Hangzhou.
Products of Midea are seen at a shop in Beijing, May 18, 2016. [Photo/Agencies]
Midea closes deal to buy Toshiba stake
China's home appliances maker Midea Group said that it has closed a deal on Thurs-day to buy a majority stake in the white goods businesses of Toshiba Corp.
The Guangdong-based company will spend 51.4 billion yen ($500 million) for 80.1 percent of Toshiba Lifestyle Products & Services subsidiary, it said in a statement. After the transaction, Midea will be able to use the brand name of Toshiba for 40 years.
Midea Chairman Fang Hongbo said it was a strategic partnership and the deal will benefit clients, suppliers as well as employees.
"I hope to use the resources and strength from each other to find potential business opportunities," Fang said.
Analysts said the sale of the subsidiary, which produces consumer electronics appliances such as washing machines and refrigerators, is expected to give Midea easier access to Toshiba's global sales network.
The Japanese company has nine production plants in Japan, China and Thailand and 34 sales bases and 95 service offices.
"The money is well spent and the deal worth even more than that (price)," said Liu Buchen, a senior analyst in home appliances and a former spokesman for TCL Corp.
Toshiba's white goods sales are among the biggest in Japan's market and it has kept a high growth in many parts of Southeast Asia, and the 40-year brand name usage was also valuable, he said.
Shiro Saito, senior vice-president of Toshiba, told China Daily during the Tianjin Summer Davos meeting that he was impressed about the management of the Chinese company.
"From what I know, Midea's management is better than I previously thought. They are a good company in terms of quality and innovation," he said.
The deal, if completed, marks yet another Chinese acquisition in the foreign consumer electronics sector. In January, Haier Group agreed to buy General Electric's home appliances business for $5.4 billion in cash.